ECC: Planting Trees & carbon sequestration
Learn more about the science behind our carbon metrics!Forterra's Evergreen Carbon Capture Program (ECC) utilizes The Center for Urban Forest Research Tree Carbon Calculator (CUFR) to determine the number of trees to plant per ton of carbon to be mitigated. The CUFR Tree Carbon Calculator is currently the only approved tool by the Climate Action Reserve's Urban Forest Project Protocol for quantifying carbon dioxide sequestration from tree planting projects. Climate Action Reserve is a leading international and domestic authority on developing standardized greenhouse gas reduction project protocols.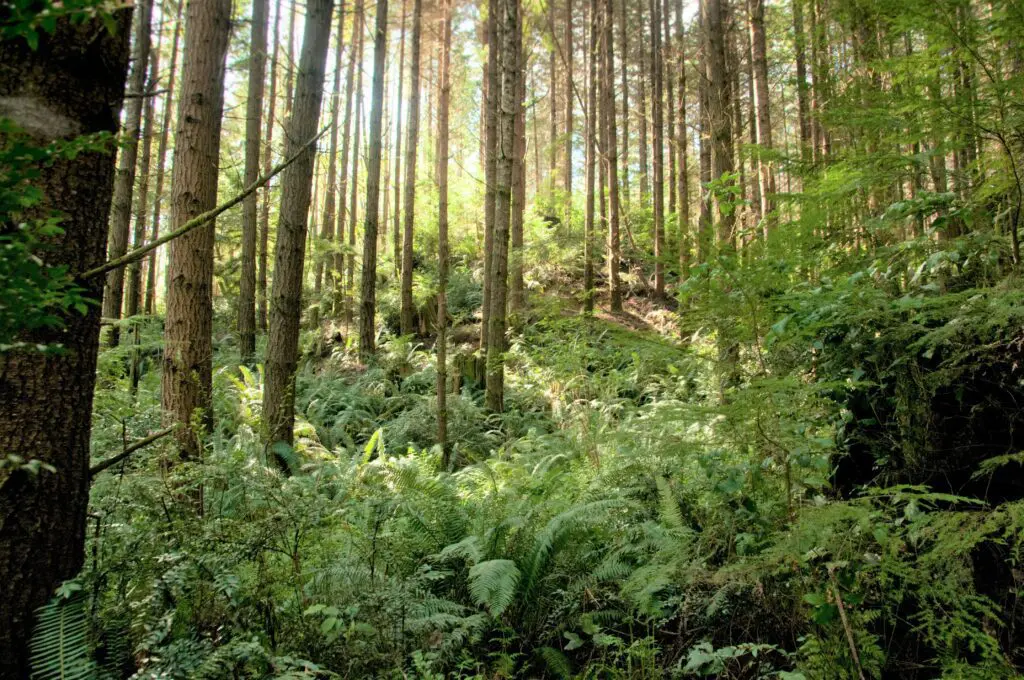 The CUFR Calculator estimates that Douglas-fir, which is the only Pacific Northwest conifer tree available on the carbon calculator at this time, sequesters 13.9 tons of carbon by its 100th birthday. We will continue to actively seek best available science to make these estimates as accurate as possible.
Although one Douglas-fir is expected to sequester almost 14 tons of carbon in the first 100 years, ECC plants one tree for every 5 tons of carbon to be sequestered. This accounts for an estimated survival rate of 50% plus a 30% contingency rate to account for variations among planting sites and sequestration rate variations between native conifer species.
We conservatively estimated the 50% tree seedling survival rate based on our experience planting and monitoring trees through Forterra's local land restoration and stewardship programs as well as reviewed multiple journals, abstracts, and reports on tree seedling survival rates in the Pacific Northwest (see resources cited below). We will work with our partners to monitor survival of the trees planted through this program to continue to strengthen the accuracy of these values.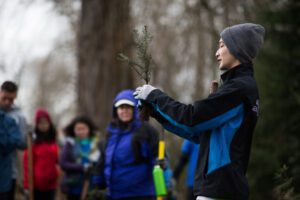 Field partners agree to track tree survivor rate after three years and report this information back to Forterra. At the end of the three year monitoring period, if tree survivorship falls below 50% of the initial tree installation, ECC will provide replacement trees for the Field Partner to meet the 50% survivorship rate. Field Partners can also provide their own replacement trees on the site as needed to meet program or restoration goals before the three year monitoring period ends. If a Field Partner working on private land loses access to that site and/or the land owner no longer agrees to participate in the Evergreen Carbon Capture program, Evergreen Carbon Capture requests that the Field Partner replace the trees lost and establish a new planting site.Resources
Grossnickle, S.C. and Y.A. El-Kassaby (2015). Bareroot versus container stock types: a performance comparison. New Forests.
Cockle, A. and G. Ettl (2010) Survival and Growth of Western red cedar and Douglas-fir planted in a variable retention harvest unit in the Western Cascades, Washington. USDA Forest Service General Technical Report PNW-GTR-828.
Rietveld, W. J. (1989). Transplanting stress in bare root conifer seedlings: its development and progression to establishment. Northern Journal of Applied Forestry.
Livingston, N. J. And T. A. Black. (1987). Water stress and survival of three species of conifer seedlings planted on a high elevation south facing clear-cut. Canadian Journal of Forest Research.