Geologically unique, Duwamish Hill sits next to a bend on the Duwamish River near Tribal fishing weirs and traditional cedar canoe landings.
Unfortunately, the cultural significance of this special place had been lost and buried under years of trash, vandalism and junk cars.

Forterra stepped in nearly 20 years ago, and with leadership from the City of Tukwila, involvement of surrounding communities and the efforts of countless volunteers, we've been working to restore Duwamish Hill ever since.

Now, this special place is full of big trees, winding accessible trails and lots of beautiful interpretive art that captures the rich history of the Puget Sound Salish. Today a group of staff and Forterra supporters met up there to enjoy a scavenger hunt and local treats from Mighty O's Donuts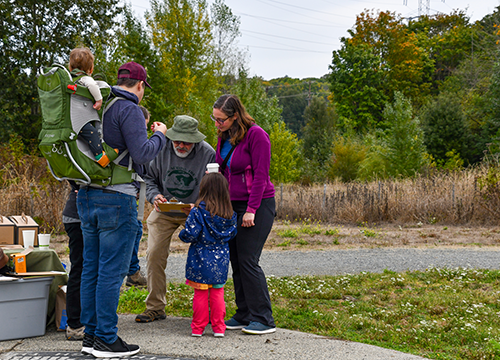 It's special to spend time at Duwamish Hill. There's a ton of history here. The hill is a glacial remnant that is older than Mount Rainier, and it's culturally significant to Puget Sound Salish people. 
If you haven't been, take the short hike to the top of Duwamish Hill and experience the fantastic view of the Cascade Mountains. You won't regret it.  
Thank you to Delta Air Lines and Index Cabins for their ongoing support of Forterra and for sponsoring our Summer Series events in 2023. We appreciate you!