Written by Kelsey Bray
Rain has never been able to stop Washingtonians from helping their community, and our recent event with Delta Air Lines and the Seattle Seahawks was no exception. On April 20, volunteers gathered at Angle Lake Park in SeaTac to do important restoration work. There were about 20 people there, including Seahawks legend Marcus Trufant.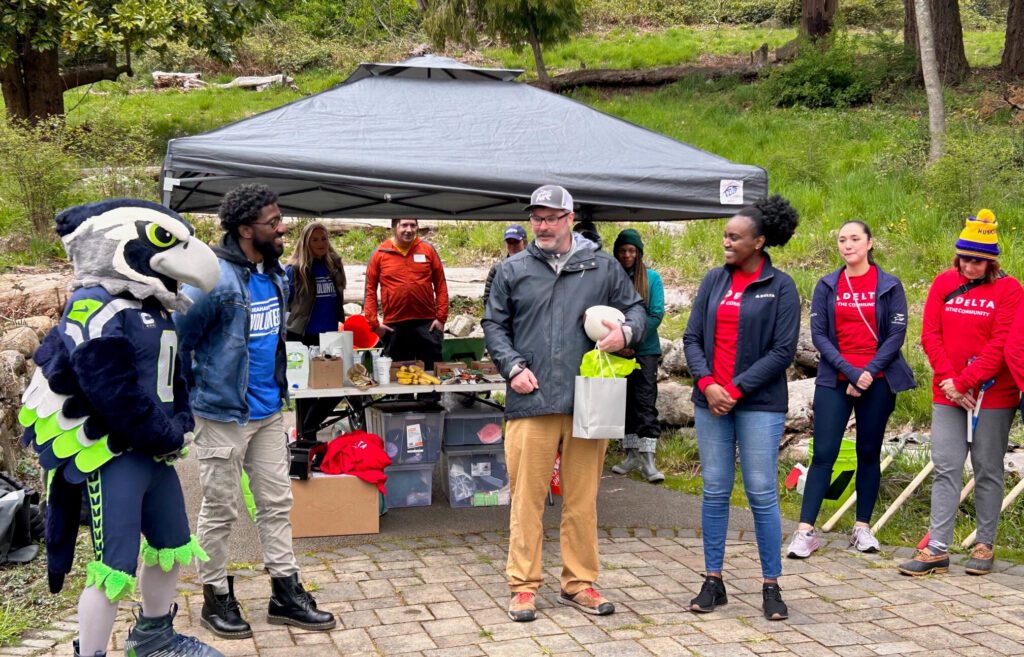 Another special guest was Noah Oliver, who was presented with Delta's Community Captain award for his work rehabilitating land and cultural resources. Noah is an exceptional Yakama Nation Cultural Resources Program Geographer and Archaeologist. On behalf of the Yakama Nation, he supports the Tribal community by conducting resource surveys and traditional cultural property evaluations.
Noah has been instrumental in numerous projects, including negotiations to return ancestral lands at Celilo Falls to the Yakama Nation. He brings a unique perspective on conservation, from mapping and archaeology, to the rehabilitation of land and cultural resources. Forterra is honored to have his help for our work.
Volunteers split into two groups. One mulched about 880 square feet of trails, and the other maintained about 3,500 square feet of the park by pulling invasive blackberry. Forterra team members Ash, Daniel and Rosie led the volunteer groups in their restoration efforts and managed the event through Green City Partnerships program. Despite the hard work and the drizzle, everyone was supportive and engaged.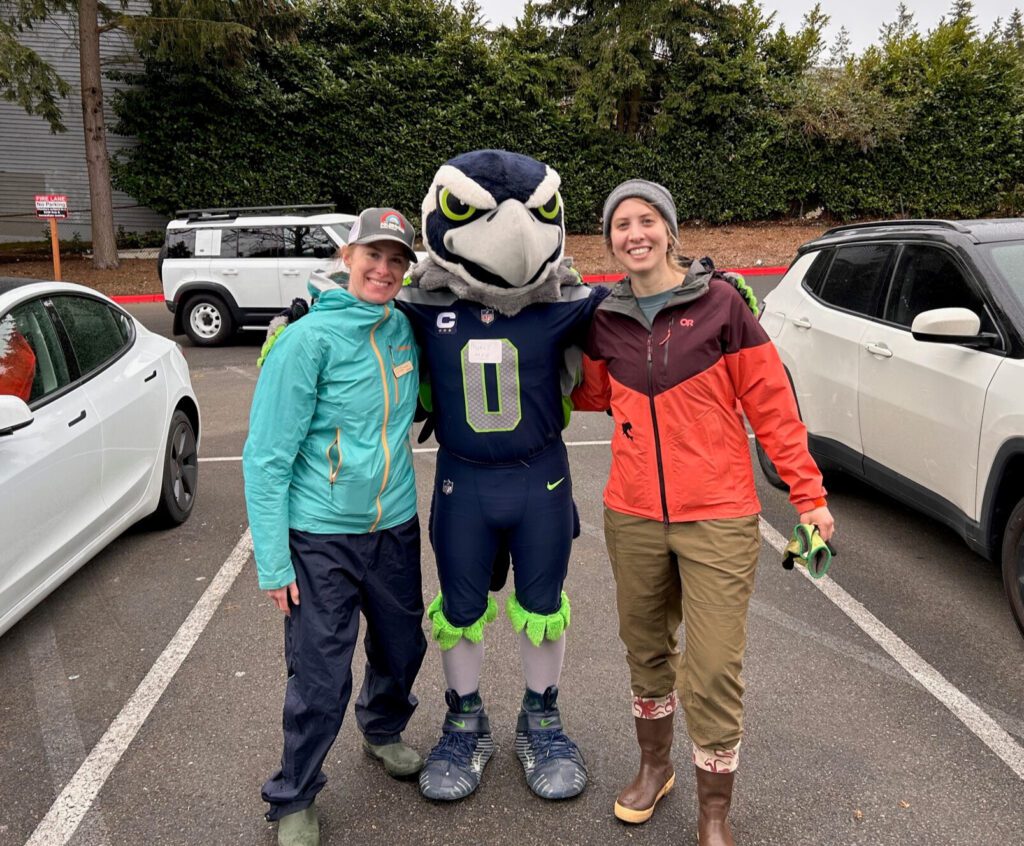 Blitz, the Seahawks mascot, was there to help with the work, rally the volunteers and keep everyone laughing. Even kids got in on the fun – volunteer Wyatt stayed for the whole two hours helping collect sticks to create a compost raft for the blackberry. Some volunteers even wanted to keep going afterward to ensure everything was finished.
Just two hours of restoration work will have lasting impacts for the community. The benefits of doing so are almost endless.
For the community, it strengthens neighborhoods, provides safe access to nature, improves quality of life and creates a culture of volunteerism and stewardship. Studies have also shown spending time in nature can reduce stress and prevent acute respiratory conditions.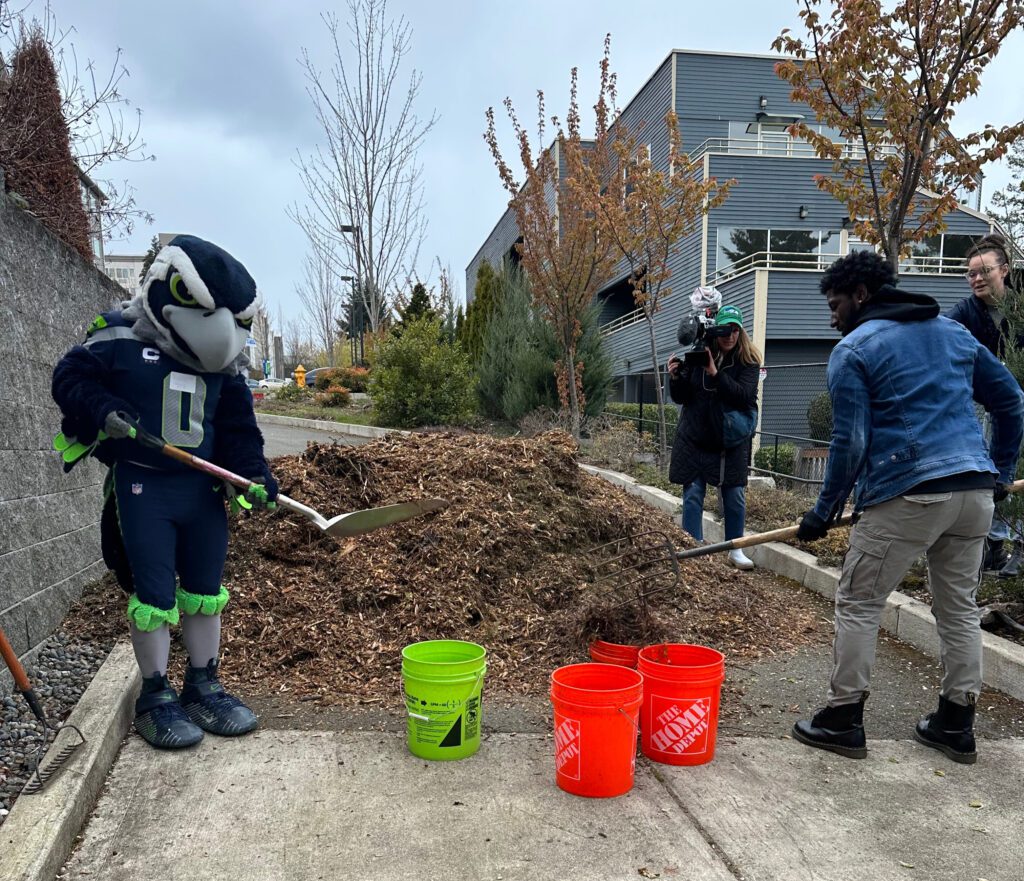 For the environment, it's necessary to combat the climate crisis. Healthy forests provide a habitat for wildlife, improve air quality, dampen noise pollution, protect towns from flooding and reduce soil erosion and water pollution.

Thank you to the City of SeaTac, Delta Air Lines and the Seahawks for their hard work and partnership in this event.
If you want to get involved, check out Forterra's events page for upcoming opportunities.