The Lake Serene Trail within the Mount Baker Snoqualmie Forest is one of the most popular hikes in Washington, for good reason: the trail rewards avid hikers who tackle the strenuous 8-mile trek with incredible views of a towering waterfall and a pristine alpine lake.
So when this trail and adjoining privately-owned 57-acre parcel was facing a shutdown threat to prepare for logging, Forterra used its unique blend of experience and relationships to organize 600 community members, purchase the land and preserve the beloved trail to Bridal Veil Falls.
Today, a group of staff and Forterra supporters took on the journey – a quintessential Pacific Northwest experience – as part of Forterra's Summer Series.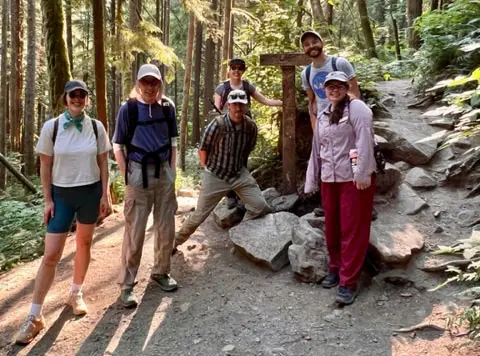 As we took in sweeping views of the mountains, we could see the areas that had been logged, but are now protected forever due to Forterra's efforts.
And young trees have already been planted in those patches of treeless areas! It's inspiring to think that in 50 years, the de-forested areas will no longer be visible. Future hikers will see a full tree canopy.
We'd like to take a second to thank Delta Air Lines and Index Cabins for their support of this event. The Forterra team and everyone who got to experience the beauty of Lake Serene appreciate it!