Friends and colleagues are always asking Charlie Raines, Forterra's senior director of forest conservation, where to walk and for good reason. After 50 years in conservation, he knows and loves this land with extraordinary depth of understanding and affection. He knows not only its sensitive and clever ecosystems and the contours of its watersheds, but also the network of woodland trails and scope of its vistas, the placement of parking lots and convenience of highway exits. Born in Everett, Raines has lived his entire life in Washington State and is now comfortably settled in North Seattle where he lives with his wife and walking partner, Cindy. With equal pride, he tells of traveling to 60 countries and all seven continents — and of always returning home.
This month, Raines retires from Forterra where he has been on staff for the last 14 years and a volunteer and board member in the years prior. Over the course of his career, Raines has played a lead role in landmark conservation achievements, including the creation of the Mount St. Helens National Volcanic Monument and the passage of the Washington State Wilderness Act, which safeguarded one million acres.
Some of Raines's recommended walks feature places that he and Forterra worked to protect, for there's no stronger bond than one that has been annealed by struggle and triumph. They cover a range of landscapes and locations, but perhaps most importantly, his choices are informed by concern for our health and the need to practice physical distancing. And so the list looks different than it would in normal times. You won't see Seattle's Seward Park or Lake Serene in Snohomish County, or any of the more popular destinations. Wear your mask, admonishes Raines (and our public health officials), walk early in the morning when the roads and trails are less crowded, and call ahead to confirm which trails and facilities are open.
These walks traverse the ancestral homelands of the Coast Salish Peoples, many of whom exercise treaty rights today, including the right to fish in the rivers mentioned below.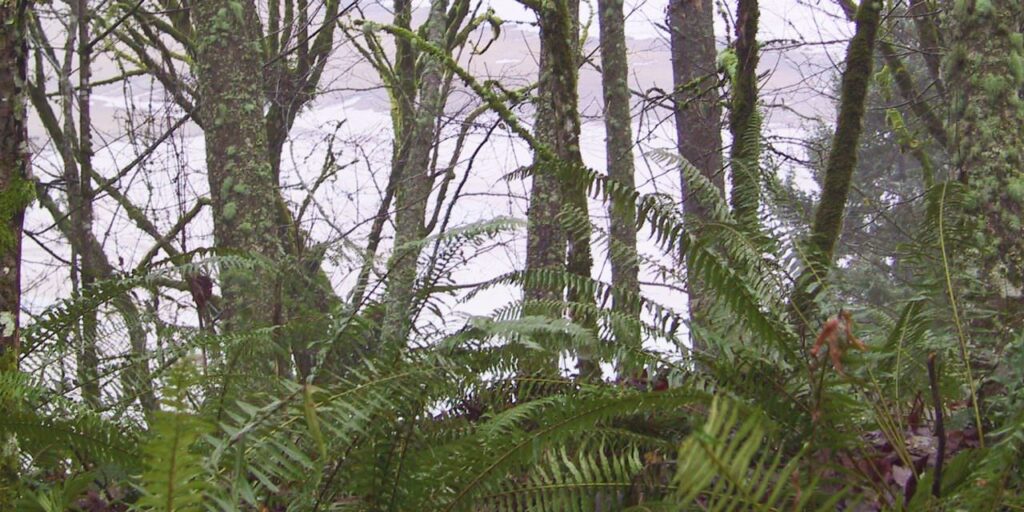 1: A ZIP CODE WALKABOUT
"My wife and I walk our ZIP code every day," says Raines, who makes a point of exploring in all four directions from his home. You can't appreciate the topography from the driver's seat like you can on foot, he insists. Seattle's hills were formed in the Pleistocene glaciation, which created a series of drumlins — elongated deposits of glacial debris — running north-south. If Raines is looking for a workout, he heads east-west.
His neighborhood sits in the Thornton Creek Watershed, which drains northeast Seattle into Lake Washington. Forterra's Riparian Restoration program is working with private landowners and others to control knotweed and restore healthy ecosystems within this highly urbanized watershed. Raines likes to track the creek itself, 15 miles of which flow above ground through yards, parks, and natural areas, bidding it farewell at the occasional culvert and celebrating the convergence of its north and south forks at Meadowbrook Pond. Just the other day he saw a pair of both mallards and wood ducks here and four heron's nests whose fledglings he suspects were eaten by a resident bald eagle. But exercise caution at this popular site, he urges, and visit during the relative quiet of morning.
Your walk needn't focus exclusively on the natural features of your neighborhood, says Raines. Families moving in or out, new businesses, historic homes, an infrastructure project, or the signs of a recent house fire which Raines observed on a walk this summer, all deserve our attention.
You can find a map of Washington ZIP codes here.
Explore six miles of trails through meadows and wetlands and along creeks, and cross a railroad bridge to access the beach.
2: CARKEEK PARK
Enter this 220-acre park in the Broadview neighborhood of Seattle through forest, explore six miles of trails through meadows and wetlands and along creeks, and cross a railroad bridge to access the beach. With the appeal of its sandy shores, this park can get busy. As a safer alternative, Raines recommends exploring the southern part of the park from the Eddie McAbee entrance.
Piper's Creek is home to a salmon run. The action takes place in fall and early December, when hundreds of chum salmon return to their birthplace to spawn. Check the Carkeek Park Salmon Stewards Facebook page for information.
Seattle is one of 15 members in Forterra's Green Cities Network. The Green Seattle Partnership was established in 2005 with the goal of restoring 2,500 acres of forested parks and natural areas by 2025. Green Seattle Partnership forest stewards and the STARS (Streams, Trails, and Restoration Stewards) volunteer regularly to help maintain Carkeek Park. Volunteers have logged nearly 20,000 hours in the past 10 years at this site alone.
For more information visit carkeekpark.org.
3: BILLY FRANK JR. NISQUALLY NATIONAL WILDLIFE REFUGE
When you enter the 4,529 acres of tidal flats, freshwater marshes, woodlands, and grasslands, named for Nisqually Tribe leader and treaty rights activist Billy Frank, Jr., it's hard to imagine that the river was once diked so that the land could be used for farming. In the 1970s Raines and his colleague at the time, Tahoma Audubon founder Helen Engle, joined the effort to establish a refuge at the Nisqually River Delta, located between Olympia and Fort Lewis. After a few hours wandering its trails and boardwalks, including a mile-long, elevated stretch, it's hard not to feel grateful that Engle, Raines, Nisqually Tribe members, and countless citizen activists, conservationists, scientists, lawyers, and others successfully thwarted the City of Tacoma's plans to convert the delta into a deepwater port.
In 2009, four miles of dikes were removed, restoring 762 acres of tidal flats in the largest estuary restoration project in the Pacific Northwest. "It is a land in flux," says Raines. If you walk along a section of the old dike that is still standing, you can see how the tide and creek interact, shifting the land and returning what was once pasture land to the mudflat it was meant to be. Today the land provides habitat for birds migrating along the Pacific Flyway and salmon spawning in the river and its tributaries. Keep an eye out for river otter, long-tailed weasel, and mink too. So as not to disturb this wildlife, the refuge asks that you leave your pets at home.
For more information visit the refuge website.
Through the Green City Partnerships and Riparian Restoration program (in both Kent and Tukwila), Forterra is restoring urban forests and important salmon habitat.
4: GREEN RIVER TRAIL
This wheelchair-accessible, multi-use paved trail runs close to 20 miles from Cecil Moses Park in Tukwila to the North Green River Park in south Kent, following, and occasionally crossing, the Duwamish and Green Rivers. There are two intersections with the Interurban Trail. The trail offers fascinating contrasts. On one extreme is the Duwamish Waterway, now a Superfund site. This stretch of river emptying into Elliott Bay has been straightened, dredged, and entirely industrialized (and yet still serves as important salmon habitat). On the other are the pastoral views of the Green River, glimpses of Mt. Rainier further south, and slice-of-life scenes of parks, playing fields, and neighborhoods.
Through the Green City Partnerships and Riparian Restoration program (in both Kent and Tukwila), Forterra is restoring urban forests and important salmon habitat along the river by working with the city, volunteers, landowners along the river, and government, corporate, and non-profit partners to remove invasive weeds and replant with a mix of native plants that support a healthy river.
To learn about the trail, visit the King County website.
[Note: A small section of trail south of the Duwamish River between Tukwila International Boulevard and East Marginal Way South is closed through November 2020 as the city begins daylighting Riverton Creek.]