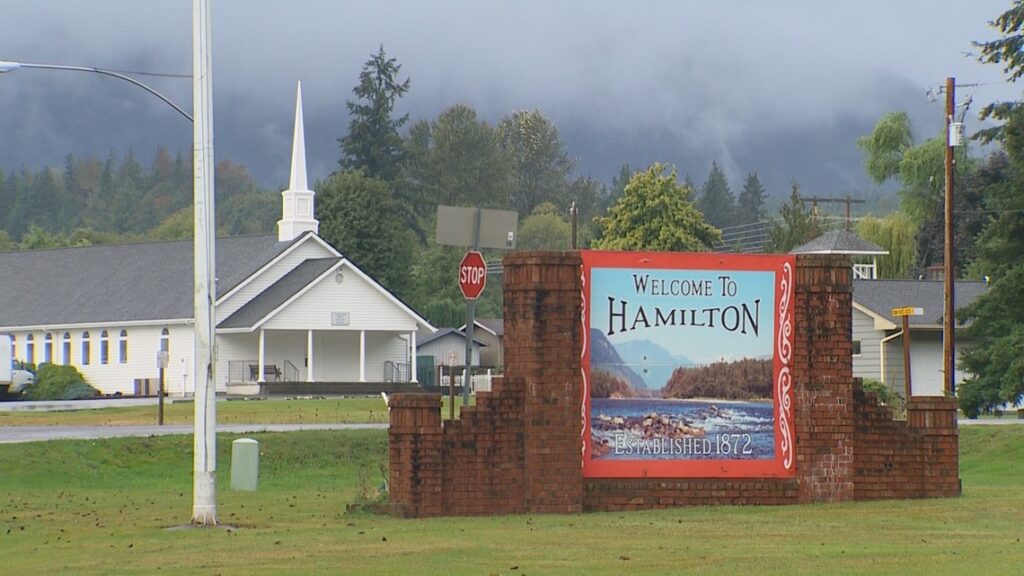 This is the third of a blog series highlighting Forterra's history in anticipation of the organization's rapidly approaching 35th anniversary. This is the start of a year of looking back to look forward, a concept honoring the Sankofa symbol of Ghana's Akan Tribe which means we should not be afraid to look to our past to help plan our future. This Forterra history project delves into the people, cultures and changes and that shaped the region and the organization and includes historical anecdotes, interviews with visionaries, perspective pieces from a diverse range of experts and celebrates the learning-est moments in Forterra's history from 1989 through yesterday evening.
Written by Topher Donahue
Hamilton has been called The Most Flooded Town in Washington, a hard designation to quantify by any measure. Name-calling aside, Hamilton residents frequently see a whole lot of the Skagit River in their living rooms. Leah Jones, a former town clerk, bought a house in Hamilton in 2000. Within a week, the mayor stopped by and said, "I'm so glad you moved into town – you finally brought us into triple digits in population." There had been 98 residents, and Jones' family of four made it 102. Today the population hovers around 300, but during the logging and mining heyday of the early 20th Century 3000 people called Hamilton home. "It was said that Hamilton would be the 'Pittsburg of the West, with enough iron to go around the world,' explained former Hamilton Mayor Joan Cromley. "Instead, the mining went away. The train tracks weren't continued. I-5 happened instead. The floods kept coming. We started to lose population."
To deal with the water (Hamilton floods about every 3.5 years and the frequency is increasing), numerous homes, sheds and outbuildings are perched on stilts. Many foundations reveal fresh masonry where homes have been jacked up and new rows of cinder block retrofitted in an effort to lift the floorboards above the water line of the next flood.
I sat down with Jones, former Mayor Travis Patrick, councilman Tim Morrison, and Forterra project manager Daniel Osterhage at the Hamilton Town Hall to talk about a collaborative effort between the community and Forterra to develop a possible solution to the flooding problem. Like all the buildings in the lower part of Hamilton, Town Hall is elevated; even the propane tank is perched on concrete pillars. Before we got into details of the project, conversation drifted to the last flood, just months earlier, in 2021. Far from the post-disaster angst you might expect, the tone was casual. "These logs keep moving around my property," said Morrison. "Every time it floods, they move. That huge one moved again. I keep telling myself – go stake a rope to that log so when it floods I can pull it to where I want it. I look over, and it's floating, it's moving, but I don't have any control over where it's gonna go next."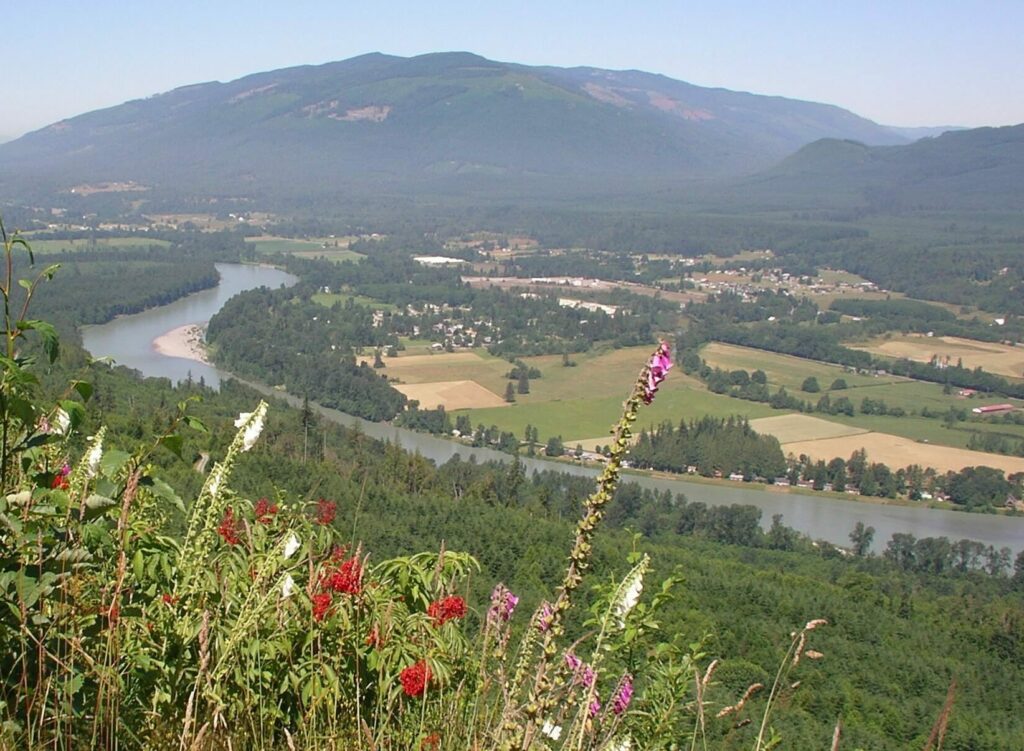 Building authorities and FEMA – after spending over $5 million on the town before the most recent flood and designating the town a Special Flood Hazard Area (meaning it has a 100 percent likelihood of recurring flooding) – would prefer people not get used to it. Many of the homes have been red-tagged by FEMA, meaning that if a home is damaged over 50% in terms of square-foot value, a building permit will not be issued for repair no matter the actual cost or who's doing the work. In 2006, knowing the situation was precarious, the town established the Hamilton Public Development Authority with the goal of purchasing a piece of property just above the floodplain and giving residents the option of moving onto higher ground adjacent to where the newer, drier homes in town are already located.
Long before Forterra got involved, town documents called the property 'new town' and referred to the process as 'moving the town.' When the 45-acre property came up for sale during Cromley's tenure as mayor, she saw a chance for her town to dry out long term. "The owner gave me a deadline: 'Buy it by this time or I'm going to put it on the market.' It was a mad scramble. We had a little funding, but not nearly enough." After two different people recommended Forterra, Cromley gave the organization a call.
In 2018, Forterra supported Hamilton in purchasing the property and put together a plan that, at least on paper, seemed an ideal solution. Rebecca Bouchey of Forterra's Community Development team summarized the appeal and challenge of the project: "Hamilton stands at the convergence of all our initiatives: conservation, long-term climate impacts, communities living in the floodplain, the connection between different organizations and the government, and how we bring those together around a solution. And the new homes need to be attainably priced."
While certainly ambitious, the concept wasn't unprecedented. Forterra had consulted with a Coast Salish Tribe on the Olympic Peninsula to help them move their village uphill to escape rising sea levels, so confidence was high that the plan was sound. Local media caught wind of the idea and in 2019 the Seattle Times published an article titled: Floods have ravaged Hamilton for over a century. Can outsiders persuade the town to move? The story explained how Forterra was planning a cutting-edge eco-community of up to 200 homes with solar power, a community-scale composting sewage system and a bio-filtering wastewater processor. The new homes were to be built of Modular CLT, a construction method that uses exceedingly strong and durable solid laminated wood panels that are typically made into assembly-ready modular units in a factory. Also known as Mass Timber, the technology has excellent carbon sequestration characteristics and can utilize smaller trees from ecologically harvested forests. While already well established in Europe and Japan and gaining traction in Canada, the building method has yet to penetrate the US market. Not only could the project help people escape the floods, but it would also create a triple net-zero community (water, energy and carbon).
The Times article had an immediate impact – and it wasn't great. "What the community heard was that they were going to be forced to move, said Bouchey. "That had all sorts of ramifications. They thought there were all kinds of judgments being put on them."
Joan Cromley even lost her mayoral seat over the issue. "Hamilton is a small community and anyone who is an outsider is looked at with suspicion, especially anybody who comes in with big money or big dreams – especially when they have both," she explained. "It's not unusual for many small Washington communities to feel that way."
Part of the resistance was also pragmatic. Why would people who own their homes, are debt free, and have lived on their spacious property for decades, want to take on a new mortgage to move into a smaller space surrounded by other people? As Jones put it, "People are like, 'I'm not giving up my family farm to go live across the street in an apartment complex!'"
Former Mayor Patrick added, "I feel that Forterra should be concentrating on proper education on the fact that we're not moving the town, we're simply giving the residents an option if they want to get out of the floodplain. There are a lot of people who are saying, 'Forterra's not making me move!' and I'm like, 'Hold on, they're not making you move, they're giving you options.'"
Whether the resistance is emotional or logical, combine FEMA buyout dollars with another flood or two, and dry ground might start looking mighty good. And Forterra is a patient partner. "I think a lot of people who were initially up in arms, even before (the 2021 flood) had started to come around and realized Forterra is not a fly by night group," Cromely said. "They're not going to force you out of your home and all these other rumors that were flying, initially."
Though there were fears in the community after the initial Seattle Times article, they talked through it. There was a year of community meetings which resulted in a development agreement and conceptual plan for the site. The Town was able to support a plan for a future new neighborhood – if the funding could be found to move it forward.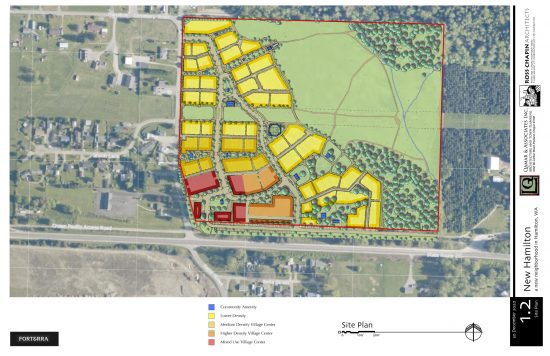 Rumors aside, selling change, even if it's presented with optionality, is an uphill climb. Jones explained, "People purchase homes here for the quiet, for the lack of neighbors; you just want your little piece of the planet. Now, we're suddenly asking folks to accept something that is the complete opposite. A new water system. Living next door to neighbors. And you're like, 'If I wanted to do that, I would have stayed in the city!' Then there's alternative energy and all those things. The technology is there, but it hasn't had 100 years to mature, so it's scary for people to change their ways of thinking. Fossil fuel vehicles vs electric vehicles. Who's gonna give up their diesel truck?"
Morrison laughed, looked over at Jones knowingly, and said, "I'm not giving mine up!"
"I'm not either!" Jones said.
"Not until the dinosaurs are gone!"
"Right!"
A few minutes later, as the meeting was winding down and we were making characteristic Pacific Northwest small talk about driving in the rain, Morrison, an electrician who drives thousands of miles each month to work in the city, mused quietly, "I sure could use an electric car."
Morrison's comment didn't strike me as a contradiction; a diesel truck and an electric car would be a sweet combination – perhaps there is more harmony between futuristic and tried-and-true technologies than the headlines would have us believe.
After the meeting, Osterhage gave me a tour of the new property that could be the key to a drier, more resilient Hamilton. Half of the site is slated for a mix of residential and commercial development, and the other half is to be restored and managed as the riparian corridor and wetland it once was. As was common in ranchlands in the region, when a stream meandering about on the property limited cattle grazing the rancher filled in the low points and built up the riverbanks to maximize pastureland. It seemed like a good idea at the time, but with its wandering tendencies limited, the stream cut downwards, creating a deep gash. This increased the speed at which water crosses the property and, while it's only one tiny piece in the vast Skagit River watershed, contributed to downstream flooding and destroyed habitat.
It's been estimated that the Skagit River is the nursery for 60% of the Puget Sound's Chinook salmon population and is the only river in the region where significant runs of all native salmon and trout species occur; even if the town didn't flood, improving the flood plain dynamics of the watershed would be a worthy effort. At one point, I lost Osterhage in the undergrowth when I stopped to take a photo of a colossal tree stump from a used-to-be mother tree, and to envision kids of a future generation hiding from each other and playing in the stream in a harmonious juxtaposition of human and salmon habitat yet-to-be.
---
Topher Donahue is an award-winning mountaineer, outdoor adventure journalist and author specializing in the method, culture and evolution of facing challenges and taking risks at the interface of the human and natural world.