Written by Michelle Connor, Forterra's President and CEO
There aren't enough homes to house us all, according to the UW's Gregg Colburn and Clayton Page Aldern. Home prices in King County surged 14.5% year-over-year ending the fourth quarter 2021, 17.2% in Pierce County and 22.1% in Snohomish County, according to Windermere Real Estate's chief economist, Matthew Gardner.
Perhaps more striking, from 2011 to 2021 home prices surged 249% in King County (Northwest Multiple Listing Service), while King County median household income only rose by $36,420 or 55.04% between 2010 and 2019. And in Pierce County, from 2011 to 2021 home prices surged 258% (Northwest Multiple Listing Service), while Pierce County median household income only rose by $19,929 or 35.26% between 2010 and 2020. The gap between home prices and our ability to afford them is a crisis, with implications for homelessness, displacement and rural overdevelopment. This challenge is compounded by ongoing escalation in carbon pollution threatening the well-being of people and nature – particularly salmon – reducing snowpack, increasing flooding, stressing forests, and generating greater risks of catastrophic fires across our natural and built landscape.
Traditional siloed approaches are serving neither the well-being of people nor nature. We must step back to see the forest for the trees and for houses. We need a new approach to housing — one that looks to local, responsibly managed forests as a long-term solution.
Housing for the future must account for both consumer and environmental costs. A supply chain that begins with responsibly managed timber and ends with beautiful homes can provide ownership opportunities for those who make less than our area median income. Consider a "forest to home" model that is local and has economic and environmental advantages to offer a housing sector that is failing to meet our challenges.
This model starts with a well-managed forest, which sequesters carbon at a higher rate than even an untouched forest — trees store the most carbon during their years of fastest growth. According to research by Dr. Indroneil Ganguly at the School of Environmental and Forest Sciences at the University of Washington, managed Washington forests, both industrial and State forests, sequester carbon at a rate three to six times greater than unmanaged federal forests.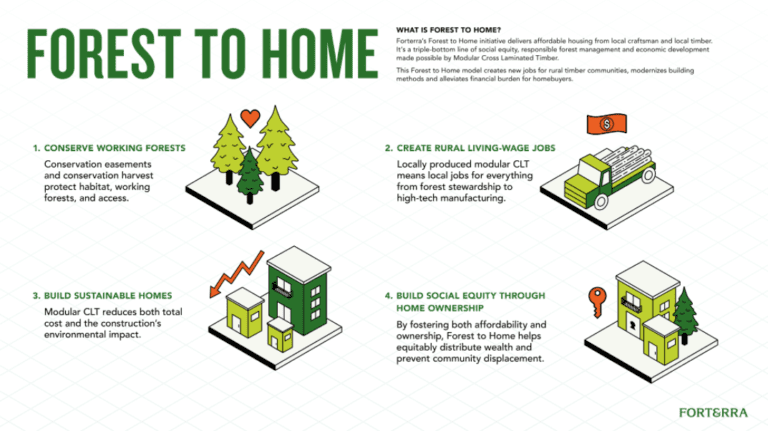 Next is to transform the supply chain by bringing to the U.S. internationally proven modular cross-laminated timber (CLT) through localized production. CLT, recently approved for high-rise construction in the U.S., is a structural wood panel manufactured by gluing together alternating perpendicular layers of wood. CLT relies on wood—a renewable and abundant resource and, when managed to high standards, can yield triple-bottom-line results with environmental, economic and social benefits, as well as aiding in wildfire and forest health management.
Washington's historic timber towns can become centers of U.S. ingenuity, innovation and sustainability through high-tech manufacturing of CLT in local mills. Rural jobs of tomorrow can steward forests, source timber, fabricate high-precision CLT panels and prep modular units in mill-town factories. Rural towns and Puget Sound cities can be reconnected in a circular economy. Sustainable housing modules created in local wood innovation centers can bring stable, living-wage jobs to rural areas. Wood modules can be delivered to job sites pre-built with finished floors, kitchens and bathrooms along with mechanical, electrical and plumbing, doors and windows. The cost savings is so significant that a McKinsey & Company 2019 report sent shock waves through the development industry: compared to traditional construction methods, modular productivity on the building site was estimated to be more than 60% improved and, in the supply chain, the productivity increase was estimated at more than 1,000%!
Take that vast saving potential and apply the final piece of the puzzle: how homes are financed. Most homebuyers confront a large down payment and other fees associated with traditional mortgages. Further, when homes resell, in today's market the highest bidder wins. Limited equity, nonprofit co-op ownership can become a part of our marketplace. Co-ops don't require a large down payment and leverage communal ownership to reduce maintenance costs. For working families seeking to stay rooted, nonprofit co-ops offer long-term stability by limiting the resale price to preserve affordability and create resilient placemaking for communities now threatened with displacement from gentrification.
We can increase affordable housing, built with materials that naturally store carbon and provide good rural jobs, and improve the resiliency of Washington's natural landscapes – from forest to home.
---
Written by Michelle Connor – Now serving as Forterra's President and CEO, over the past 28 years Michelle Connor has worked to steward the well-being of people and nature through how land is owned and managed.