Written by Forterra Staff
On Friday, May 20, volunteers from Delta Air Lines and the Seattle Seahawks (including three rookie players) joined Forterra's Green City Partnership for a day of service at North SeaTac Park. Delta and the Seahawks also awarded their Community Captain award to Noemie Maxwell, a Forterra Forest Steward and community leader who has spearheaded efforts to restore and protect North SeaTac Park. The park is a gem — it has a large forest with walking trails, a BMX bike track, play fields, a disc golf course, and more. Volunteers have been working steadily to remove plant species such as ivy and blackberry to protect existing trees while planting new native trees and plants.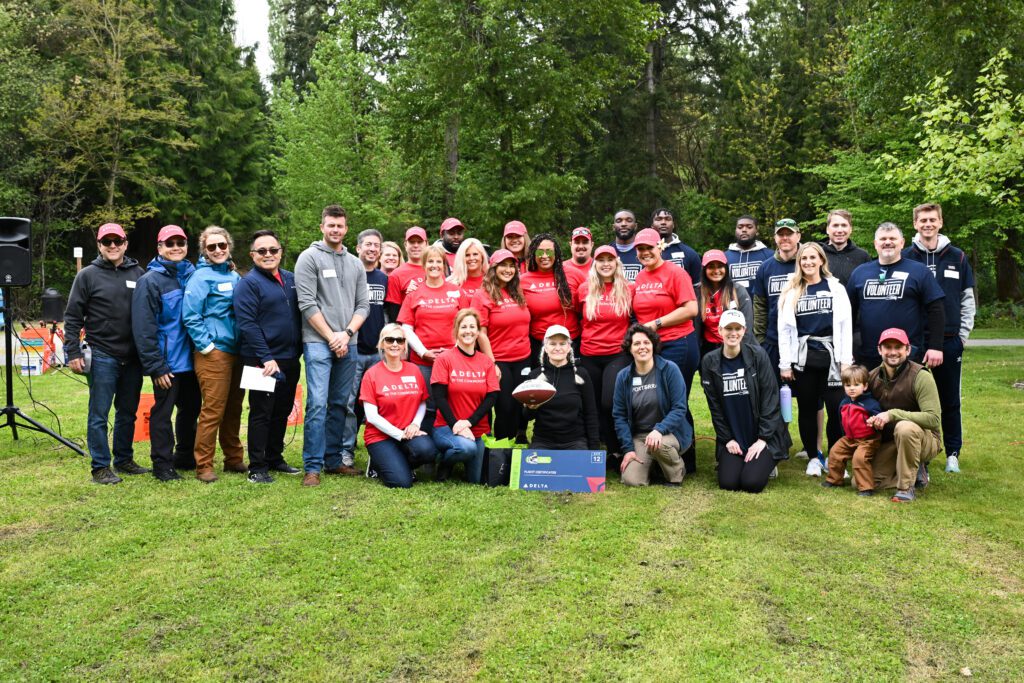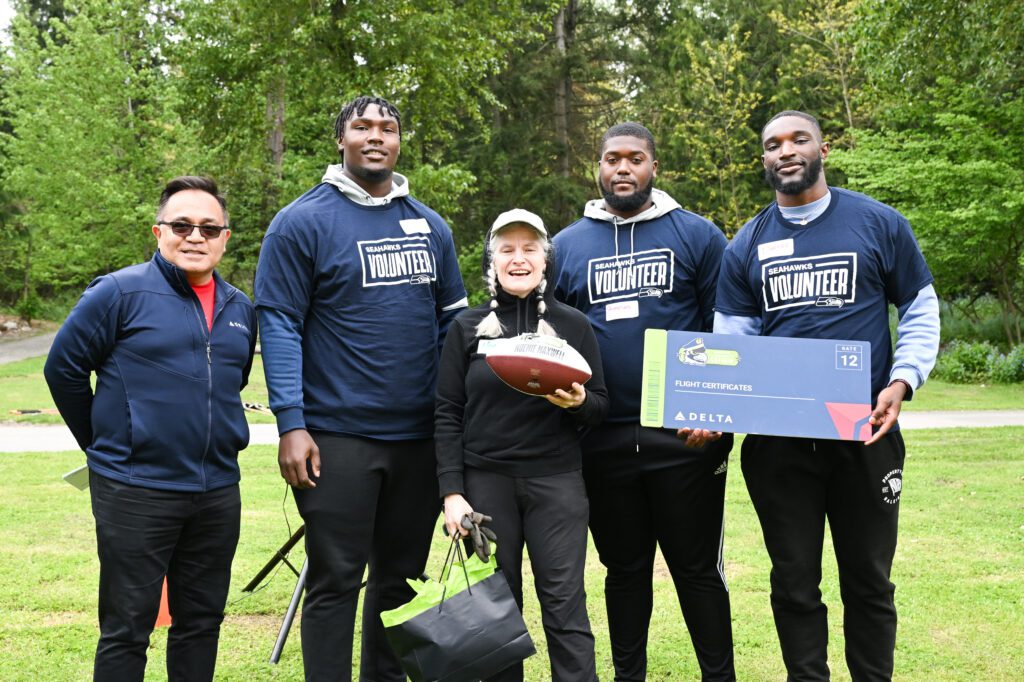 Restoration efforts like this are incredibly important to cities and towns because urban greenspaces are good for our communities. They are a gathering space. They provide habitat for wildlife. They help mitigate air pollution and sequester the carbon the drives the climate crisis. Trees also help keep neighborhoods cool and tree cover provides shade on hot days. Forests can also help buffer noise pollution – and that is evident at North SeaTac Park. The park is just north of SeaTac International Airport, and right under a flight path. When you are at the park, it seems like you can reach out and touch the planes as they land and takeoff. And they are loud. Especially when you are not under the canopy of the forest. But walk a few feet into the forest and the sound of planes or the traffic along Des Moines Memorial Boulevard becomes quieter.
If that's not enough, another reason to restore and protect spaces like North SeaTac Park – we simply need to preserve the greenspaces we already have, while we work to create new parks and forests. It's a matter of equity – 20% of King County residents, more than 500,000 people, don't live within walking distance of a park or trail. Communities of color and low-income communities are most impacted by this disparity and this underinvestment in parks. Restoring and conserving parks in our cities and towns is about environmental and social equity.
That's why we are thrilled to have Delta Air Lines and the Seahawks as partners and that they recognized the vital work of Noemie Maxwell, our Forest Steward at North SeaTac Park. After presenting Neomi with the Community Captain award, about 30 volunteers broke into three groups. One group helped protect recently planted native trees like Douglas Firs by spreading two giant piles of mulch around the plants. One group tackled a huge thicket of blackberry, clearing so much that the area was completely transformed. The third group took on ivy and blackberry, clearing these plants to protecting the trees in the area.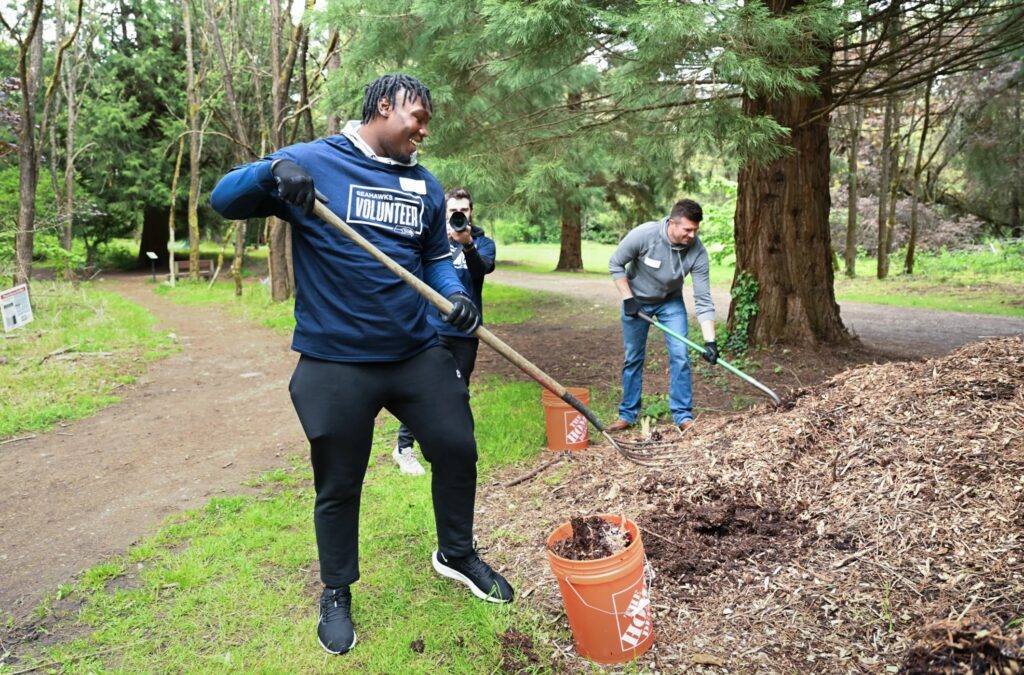 Efforts like this are contagious. Several disc golfers saw the work parties and asked what was going on. When Forterra staff explained what we were doing, they asked how they could get involved in their cities. They even asked if they could donate to Forterra (the answers were yes and yes). You can get involved too! Learn more about our Green City Partnerships here and Noemi's work in North SeaTac Park here. And watch this great KING 5 report about the event with Delta Air Lines and the Seahawks here.