Written by Michael Kelly
We all contribute to the climate crisis – some of us more than others. But no matter how we live, modern life in the United States means that we each play a role in climate change. That can be unnerving, but it also gives us power – the power to make changes, to find ways to offset our impact, to encourage our friends and family to join us, to ask the places where we shop or do business to act, to lobby our elected leaders to help change the systems that drive the climate crisis (and hold them accountable if they don't) and more. But the bottom line is that this is a team effort.
Which is why we are thrilled to have a broad group of partners, including the Seattle Sounders, in our Evergreen Carbon Capture (ECC) program. You can be a part of it too.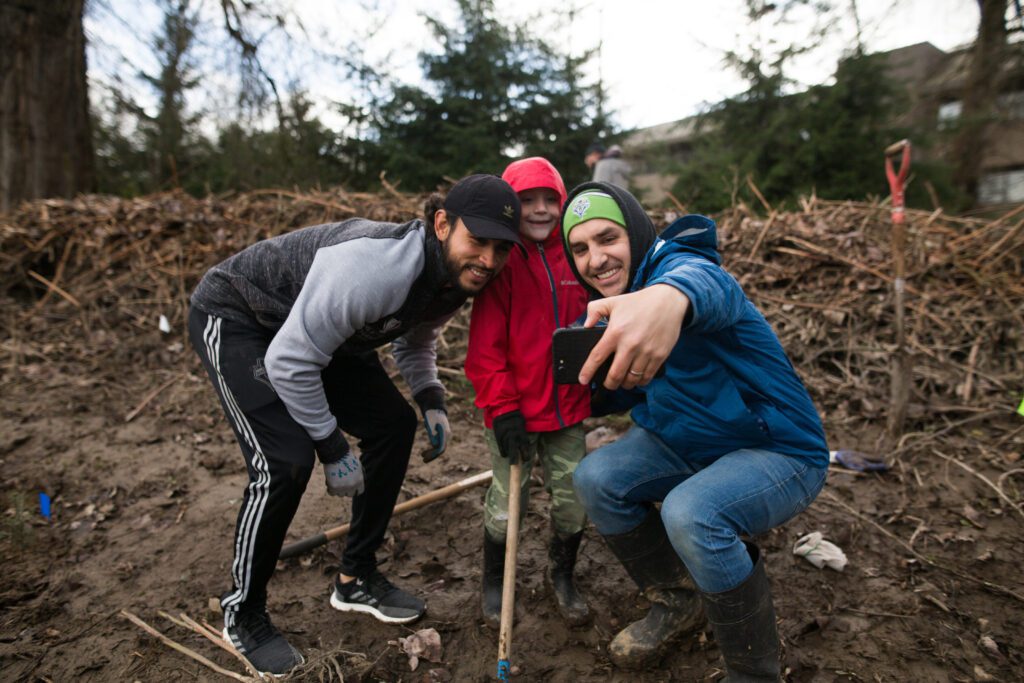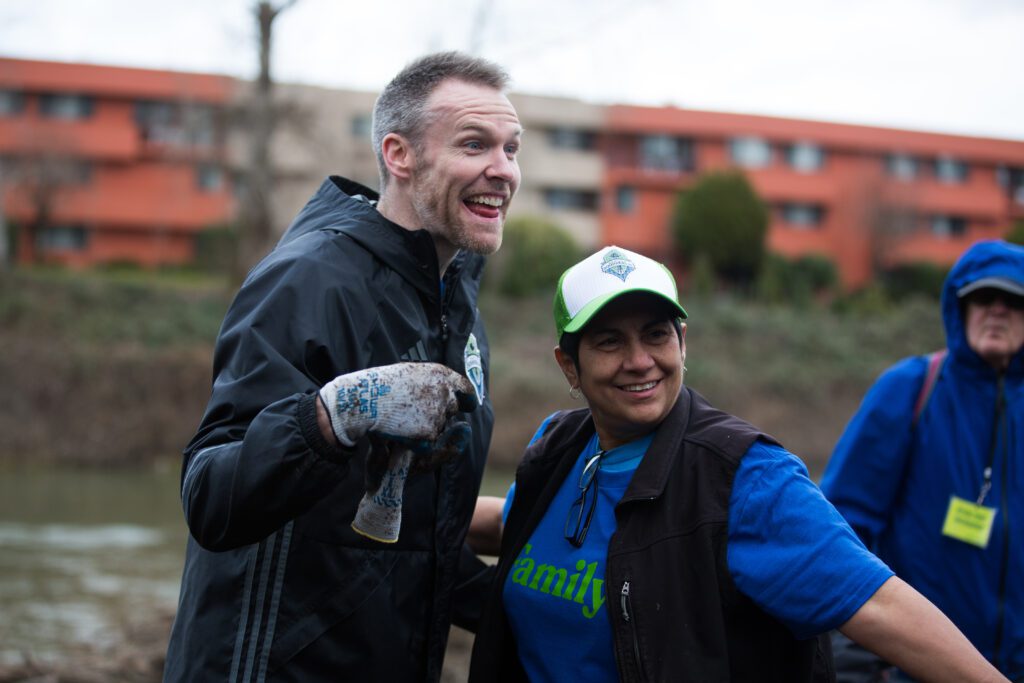 Forterra created ECC to provide organizations and individuals a concrete way to help address climate change by planting native trees in cities and towns throughout the Puget Sound region. The concept is simple – organizations and individuals can calculate their carbon footprint – how much carbon pollution their activities create each year – and offset that footprint through tree planting. Once you calculate your impact, you can put it into action. ECC takes a lot of volunteers. Every year hundreds of people participate in planting events all over the region. It's a chance to see your commitment in action. Find volunteer opportunities here.
And what a difference it makes!
The average native conifer tree, like the Douglas Fir, can sequester a lot of carbon pollution over its lifetime – nearly 14 tons. Since 2010, this innovative program has planted more than 56,000 trees in more than 130 locations throughout the region. These trees will sequester nearly 376,000 tons over the next 100 years.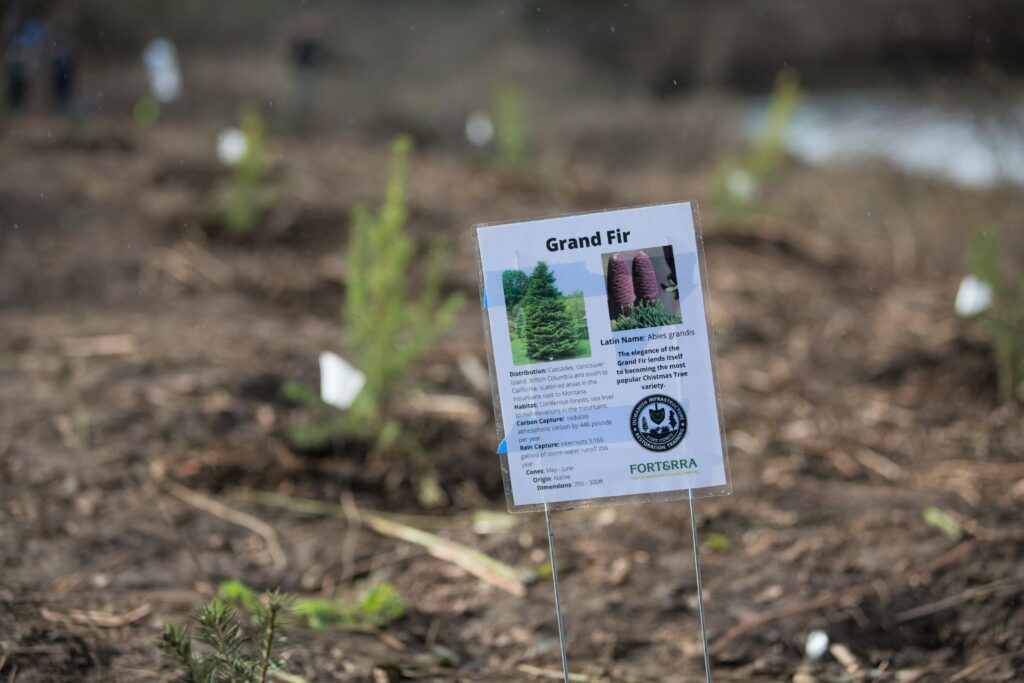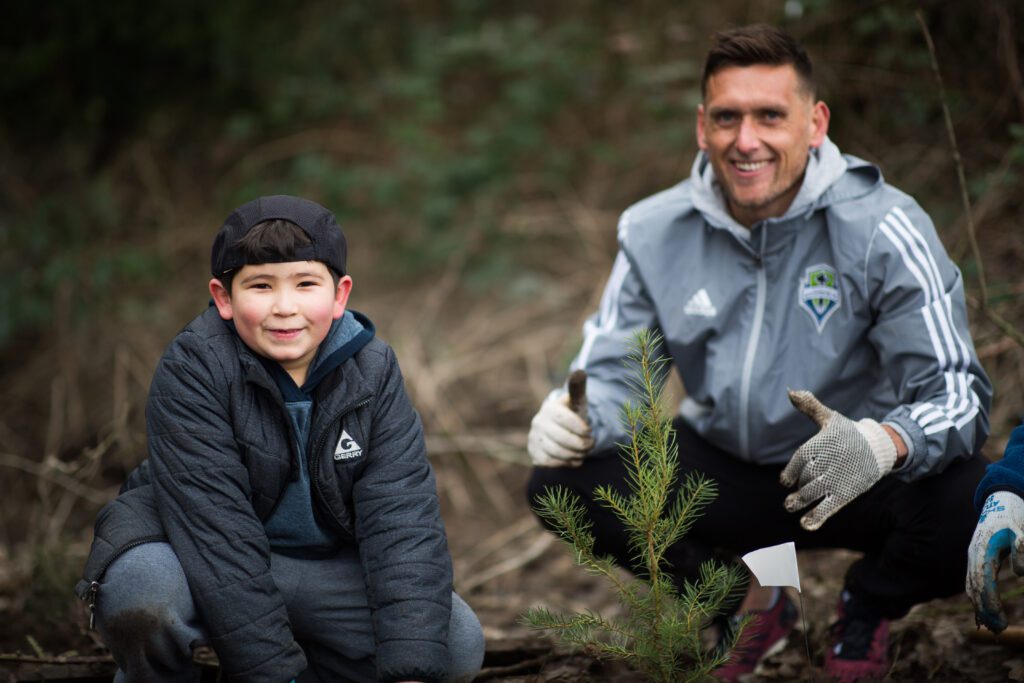 But that's not all – trees also help keep neighborhoods cool, providing shade for wildlife and people. And tree planting is part of comprehensive habitat restoration efforts. The trees planted through ECC help develop health, resilient forests, parks, and natural areas now and for the future.
Tackling the climate crisis can seem so huge. We're already seeing the impacts through increased drought, more severe weather, sea-level rise, and flooding. It can seem daunting ti figure out what to do. ECC is a way for individuals and organizations to take direct local action. And it can be a model for other regions of the country and the world.
We are encouraged that organizations and individuals in Washington State are taking the initiative to reduce their carbon footprints and to offset the carbon they could not reduce. Partners like Sounders FC are leading the way. In addition to being the first Concacaf champions from the MLS, Sounders FC are the first carbon neutral pro soccer team in North America and the first carbon neutral pro sports team in the United States. One of the ways they have achieved this is through their participation in ECC.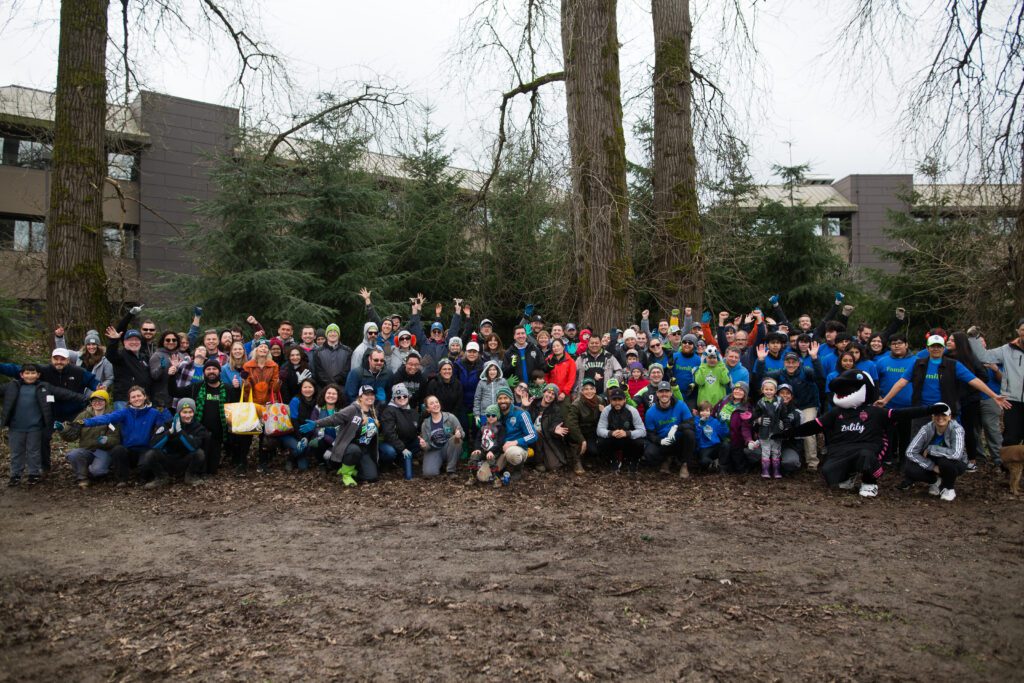 Other local businesses, organizations, and individuals are joining them. In the past year, ECC participants increased their support for climate action in the Puget Sound region by setting a new program record. With these commitments, we are supporting local forest restoration by planting 5,695 native evergreen trees to offset carbon emissions, an increase in tree planting by 34% over the previous year. We thank them for their leadership and look forward to growing ECC participation again in 2022.
Summer is nearly here. For many people that means setting off for somewhere else – a break that is a long time coming, a dream vacation, a trip to grandma's house or a staycation. And that means carbon emissions. So, before you set off – why don't you offset? Visit this page to calculate your footprint – either for the year or your trip – and then make a donation to Forterra that feels right to you.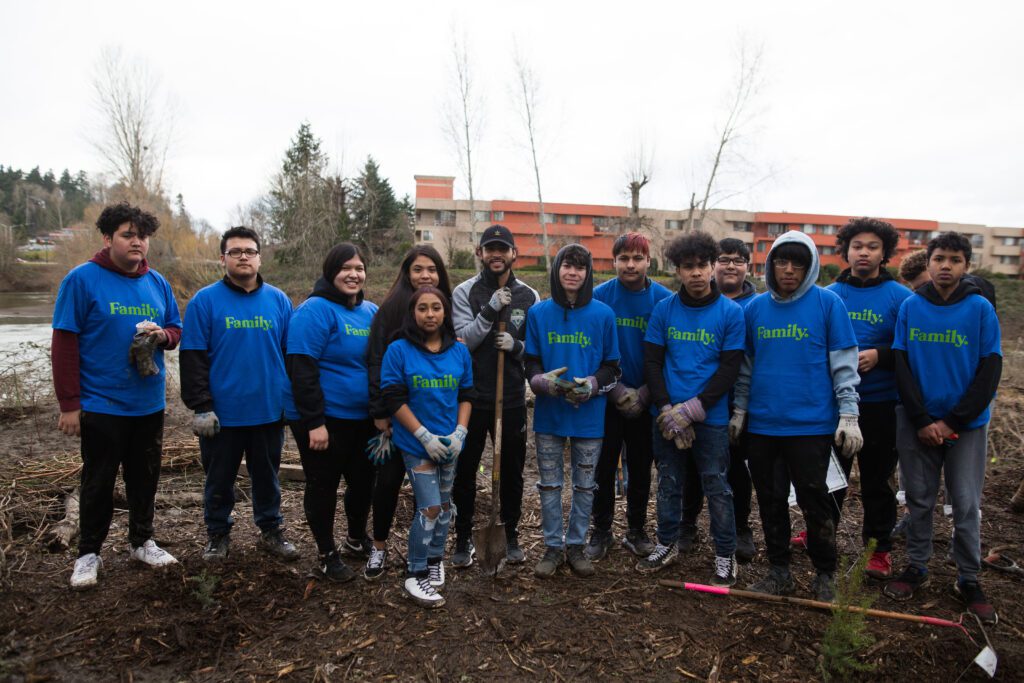 Read more about the Sounders commitment to being carbon neutral here (and join them for their One Seattle Day of Service on May 21!) and learn more about the ECC program here — scroll down to read our latest annual report to learn about all of our partners.
---
Written by Michael Kelly – Michael believes in the power of people coming together to create genuine change and build a more sustainable, equitable, and just society. Michael is a writer, strategist and national communications leader and has spent nearly two decades developing communications strategies to motivate people and mobilize movements to make democracy work for all of us, protect our water, tackle the climate crisis and increase access to affordable housing and greenspace in our cities.