Written by Michael Kelly
Recently, while returning from a trip, I took the Light Rail home from the airport. While we were at the Columbia City stop, I glanced up at the Cheasty Greenspace. I couldn't see much more than a small portion of the forest from my vantage point on the crowded train, but I was reminded that less than 20 years ago that space was inaccessible, overgrown and unused. Today it is a thriving urban forest bisected by walking and cycling paths. It is a gathering place and a recreational space – bringing neighbors from the immediate area and across the city to steward and maintain this special place.
This is a brief version of how the community came together to restore and reinvigorate the largest contiguous forest in Rainier Valley.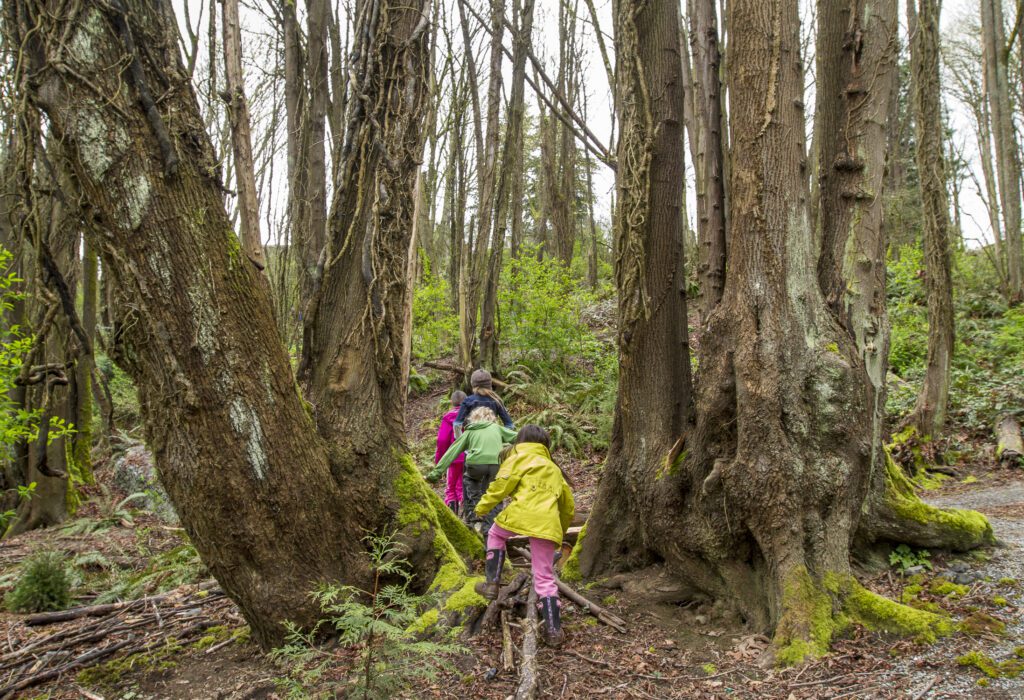 A Restoration of a Relationship with the Woods
This story starts with two neighbors and grew into a neighborhood movement that continues today.
Mary DeJong and Andrea Ostrovsky came together to restore a forest. Cheasty Greenspace served as the backdrop to their homes, but Mary and Andrea could see that the forest wasn't healthy. There were too few native conifers, many trees were covered in ivy and the ground covered with blackberries. As Mary said: "it wasn't a friendly forest. It didn't feel welcoming and safe to go into it."
Though both Mary and Andrea were doing some rogue stewardship (as Andrea calls it), they realized that the work was too much to do on their own. After a call to the City of Seattle, they were introduced to each other and Forterra's Green Seattle Partnership. After meeting together, they decided to take on the challenge and became forest stewards. Then they started the hard work of rallying their neighbors. And it was hard – many people weren't even aware that the largest contiguous forest in the Rainier valley was right next door to them.
Volunteers like Mary and Andrea went door-to-door to make sure people not only knew that the forest was there but understood that the forest was necessary for their health and wellbeing. They began to build partnerships with organizations throughout the neighborhoods bordering the forest, taking people into the woods so they could experience it for themselves and see the possibilities of a healthy, restored forest and parkland in their neighborhoods.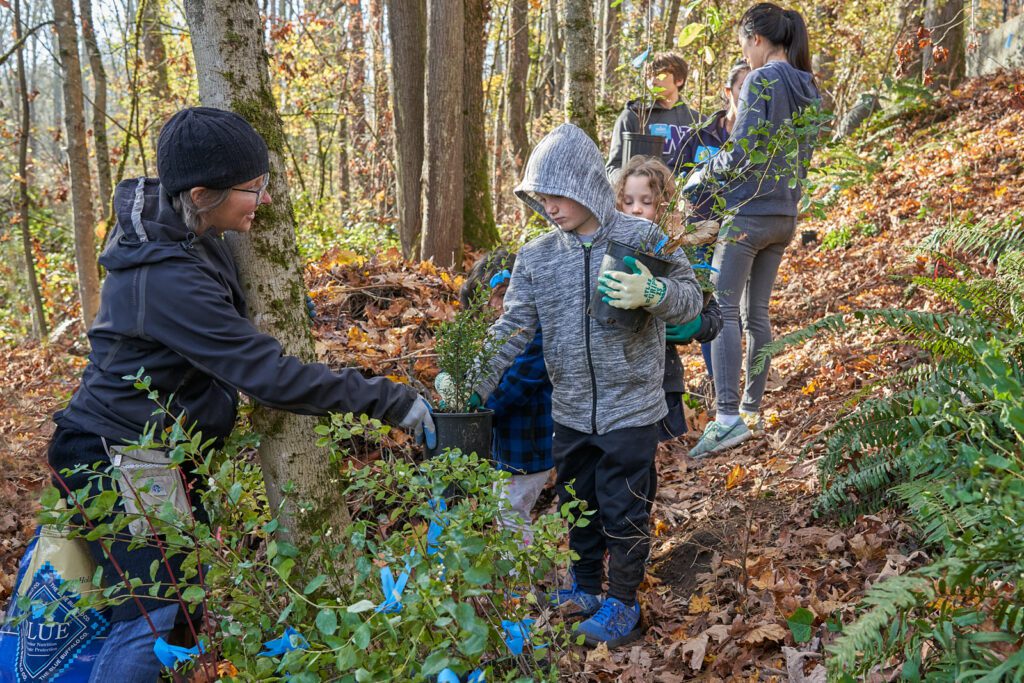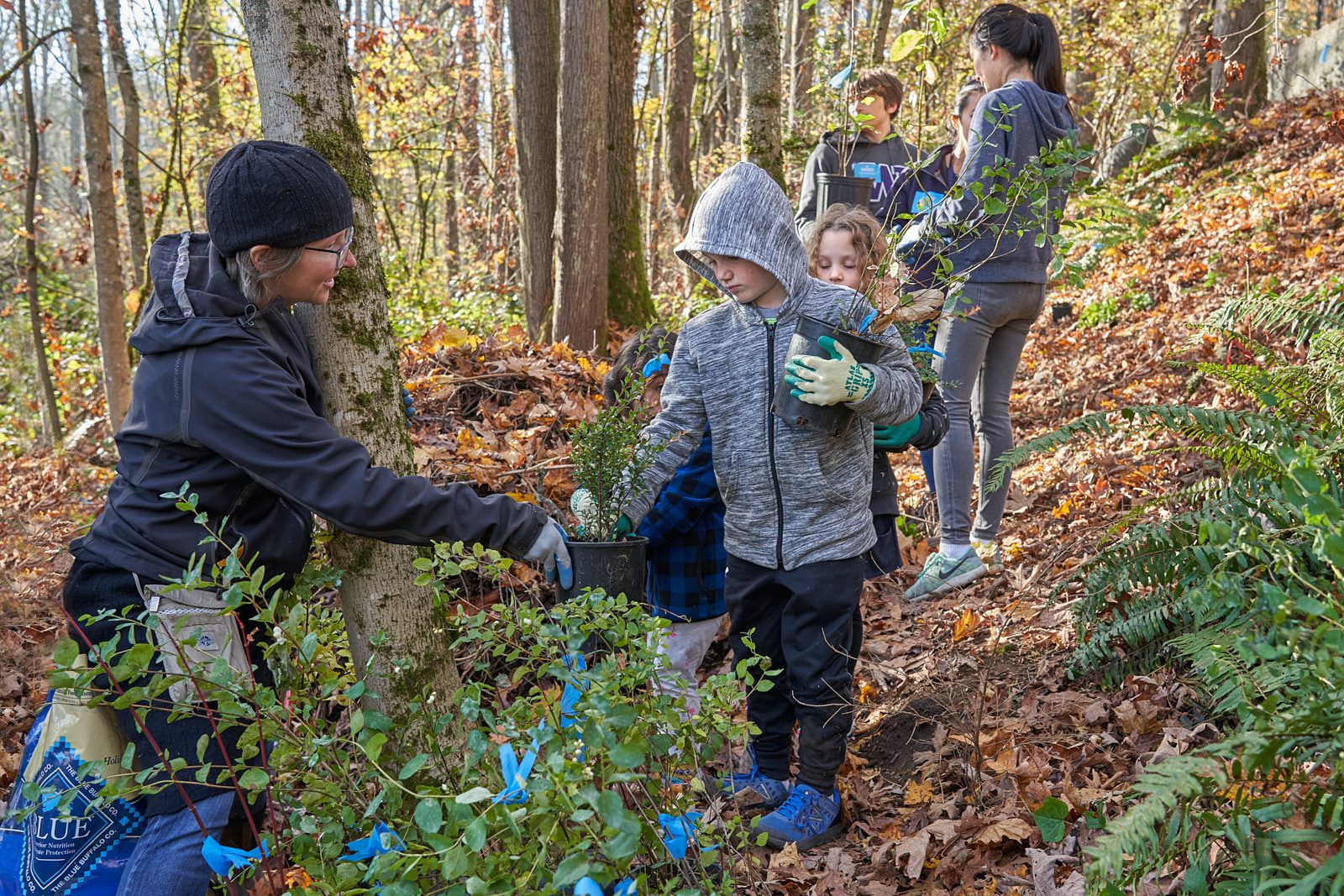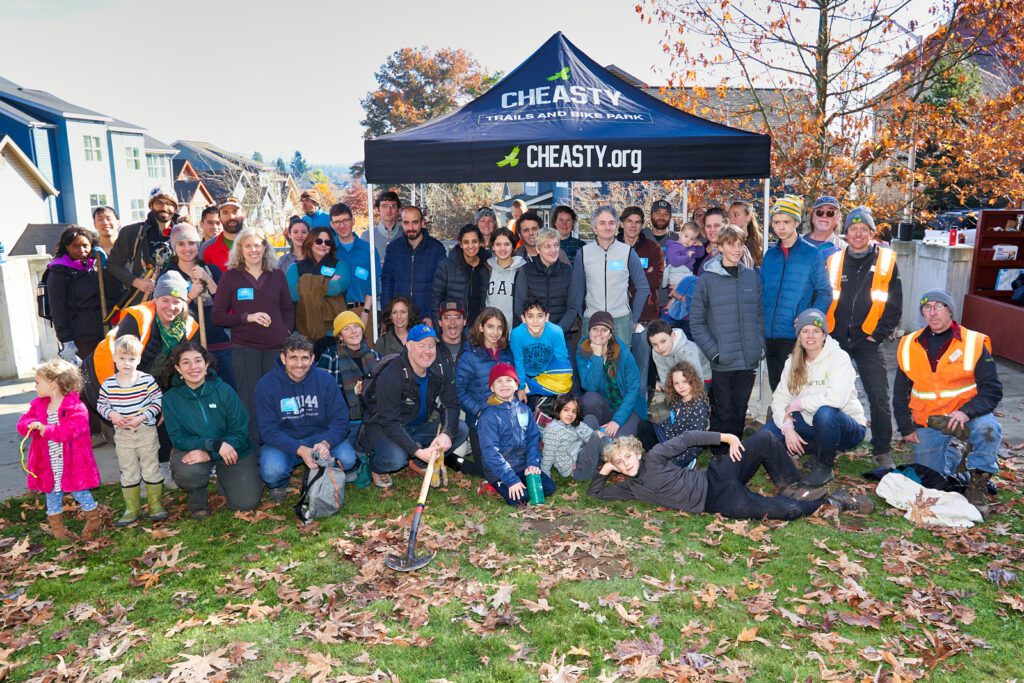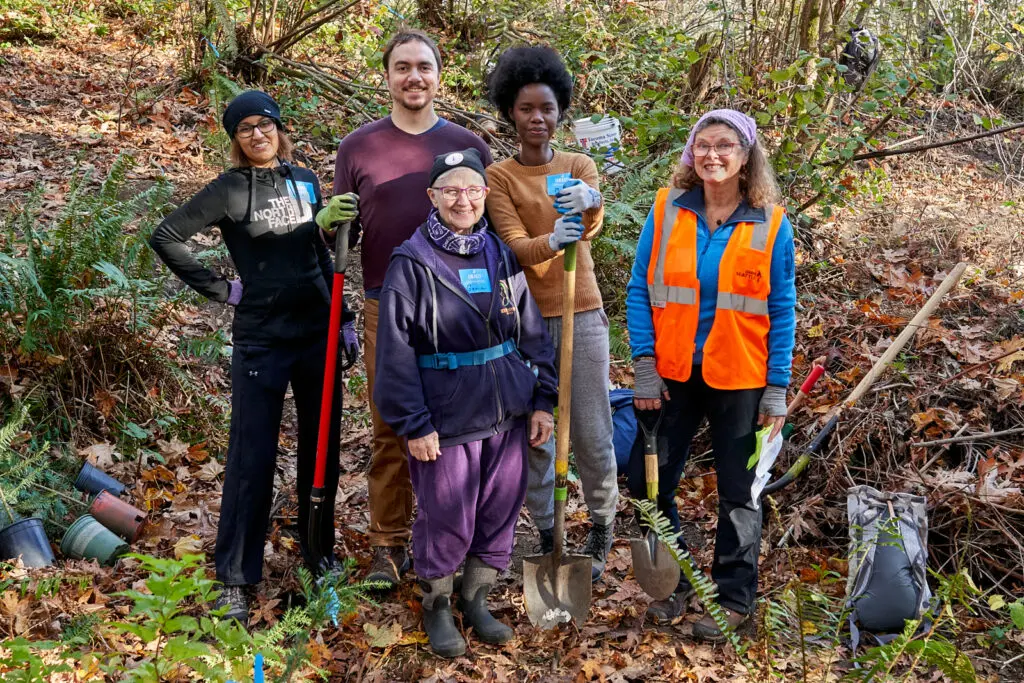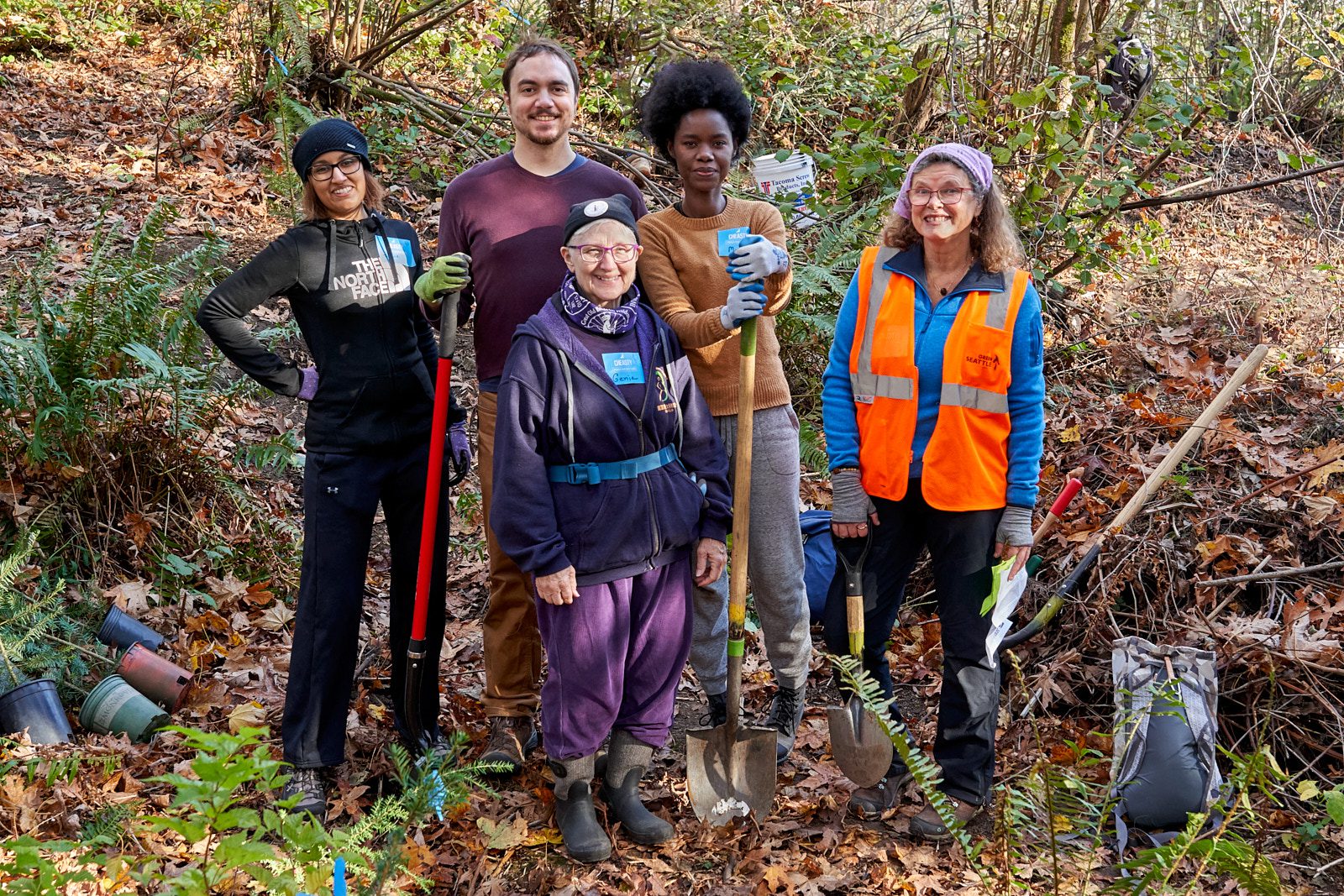 Susan Zeman was doing her own restoration work too. Her home at the time backed up to the Greenspace and she began clearing some of the ivy and blackberries where the forest met her home. Then she came upon a flyer Andrea had posted inviting neighbors to a work party. Susan wanted to learn more, so she went and then kept showing up, and became a leader even after she and her family had left the neighborhood. That's the power of community, the power of restoring a relationship to the woods, to nature.
Our Kids Grew Up In this Forest
Forests and urban tree canopies are vital to the health of city. Recreational spaces where people can come together are vital to our communities and our mental wellbeing. One of the major questions for the coalition for individuals and organizations who came together to restore and maintain Cheasty Greenspace is how the community could make sure these woods became safe and welcoming enough so that even a child could walk in them and feel safe. That was the barometer — could a child or an elderly person for that matter walk and feel safe?
Over the years Mary, Susan and Andrea held events that brought neighbors and community members into the woods so they could envision and help build a space where anyone could gather. By all accounts, they have succeeded.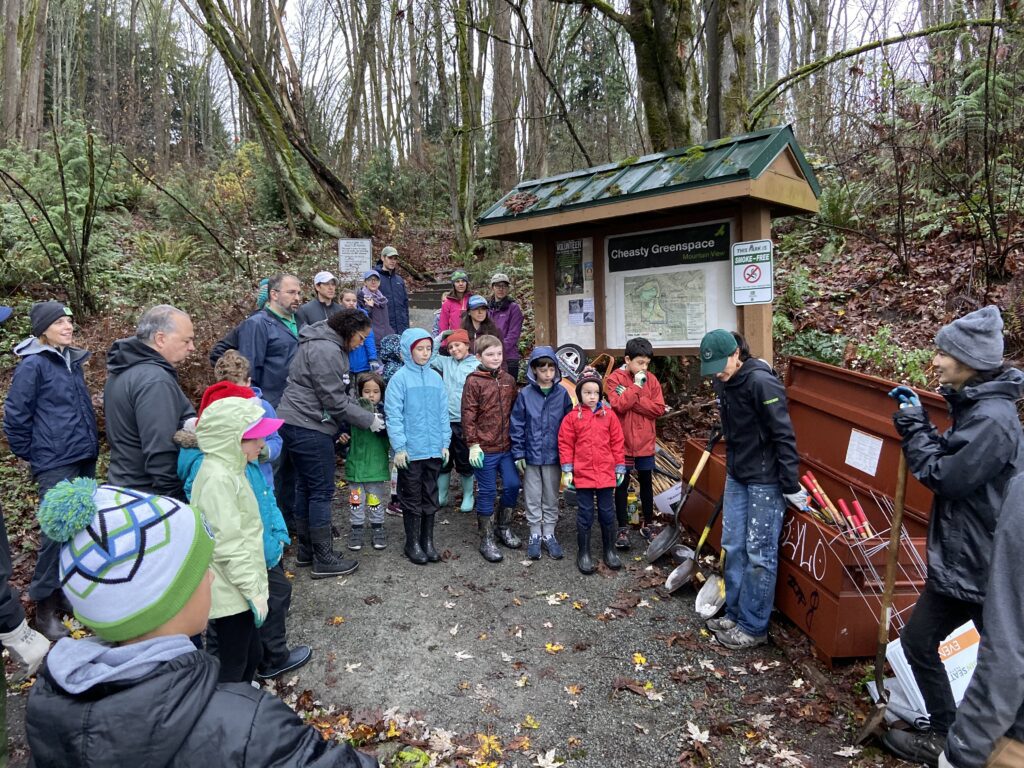 It's not just a space for play. Over the years hundreds of young people have been involved in work parties and restoration efforts. And they became connected to the forest. As Susan says, "the kids were making discoveries about the forest community – the lichen that is growing on the tree with moss and the birds and the deer ferns and — that really complex network. To see kids discover that for themselves is always magical, every time."
Healthy Forests for Healthy Cities
Stewarding and maintaining spaces like Cheasty Greenspace is about building community and creating spaces for people to gather – with other people and with nature. But there are so many other benefits. Restoring and conserving forests and tree canopies in our cities help mitigate some of the impacts of the climate crisis – trees literally lower the ambient temperature in our neighborhoods. These greenspaces also provide vital habitat for wildlife. Healthy forests can help protect sources of clean water, they help provide clean air and they help sequester carbon.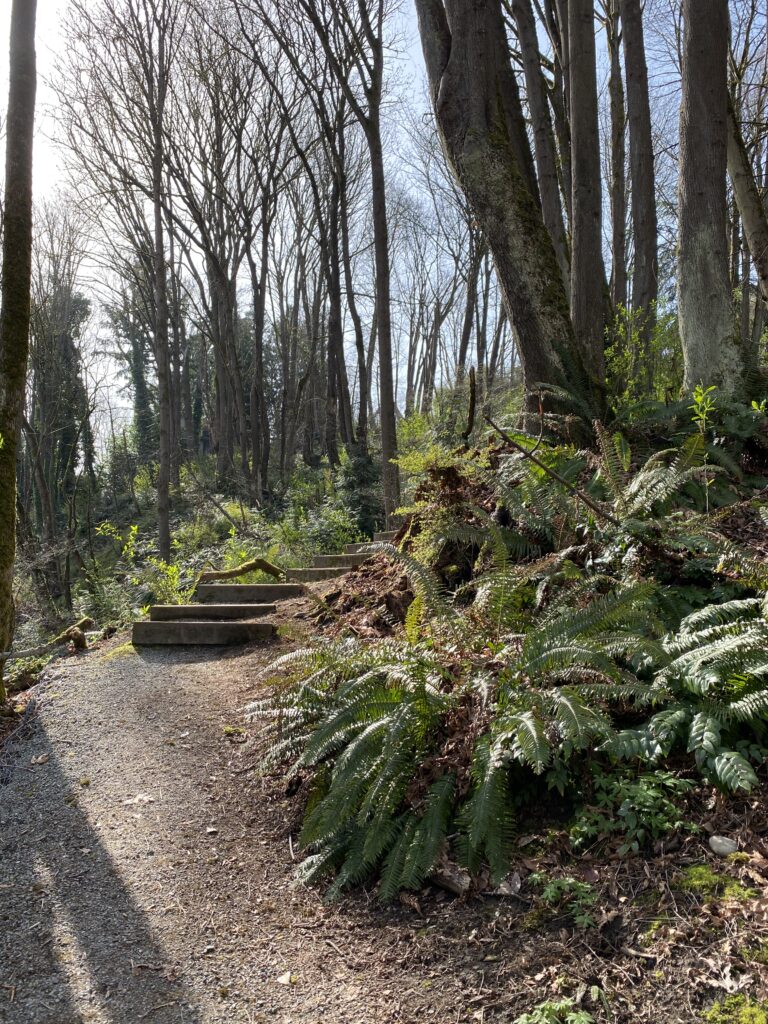 Local Action, Wide Impact
The efforts of the thousands of community members and volunteers at Cheasty validate the sentiment behind that old bumper sticker, "Think Globally, Act Locally." Their work in their neighborhoods made a difference.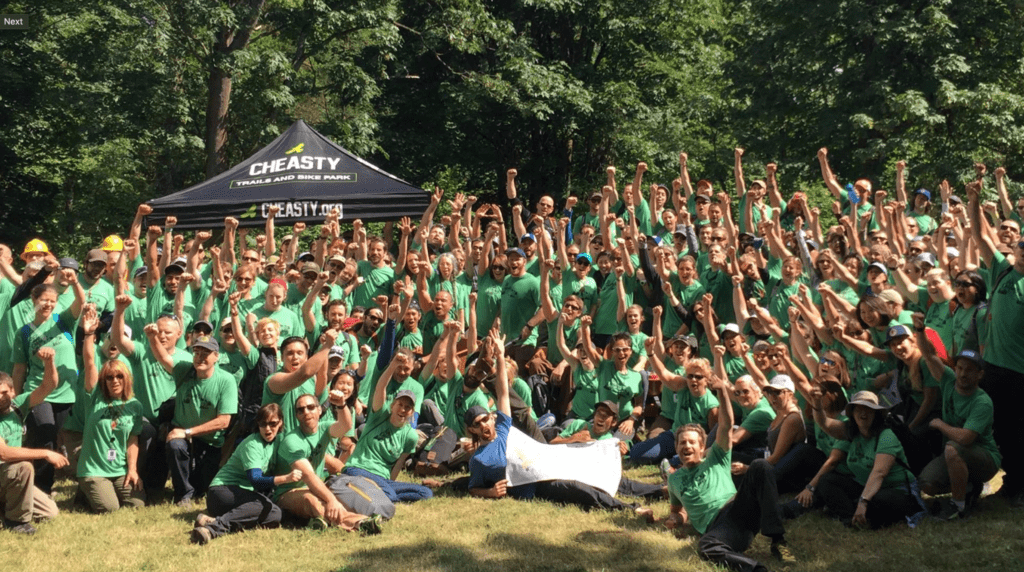 So much of what we're facing right now — whether it is the climate crisis, habitat loss or unequal access to things like public parks and greenspace – seems too big to tackle. But if you step back and look at the impact that a small group of people coming together can have on their community and their city, the problems seem less daunting, more solvable. What Mary, Susan, Andrea and the Friends of Cheasty Greenspace and other Green City Partnerships show us is that it is possible to solve big problems – even in our own backyards – all while creating stronger, more connected communities.
To learn more about Cheasty Greenspace, visit their website. To learn more about Green City Partnerships, visit this page. Download this map to take a self-guided walking tour!
---
Written by Michael Kelly – Michael believes in the power of people coming together to create genuine change and build a more sustainable, equitable, and just society. Michael is a writer, strategist and national communications leader and has spent nearly two decades developing communications strategies to motivate people and mobilize movements to make democracy work for all of us, protect our water, tackle the climate crisis and increase access to affordable housing and greenspace in our cities.