Welcome to the Hazel Wolf Wetlands!
This biologically rich area was preserved in 1995 thanks to the cooperative efforts of neighbors, corporate partners, county government and Forterra.
Neighbors, led by Ann and Fred Weinmann, recognized these as some of the highest quality wetlands on the Sammamish Plateau. They worked with the landowners and King County to protect this natural area in the midst of a rapidly urbanizing landscape.
Forterra joined the partnership to craft a precedent-setting agreement which continues to serve as a model for the other preservation efforts.
Hazel Wolf Wetlands are open to the public and have connections to the extensive network that runs through Beaver Lake Preserve and Soaring Eagle Regional Park.
Visiting Hazel Wolf Wetlands
Trail Difficulty: Easy
Distance: 1.7 miles +/_
Address: 24733 248th Ave SE, Sammamish, WA 98075
Directions:
From Seattle, follow I-90 east to Exit 17. Then drive the Issaquah-Fall City Road east and bear left onto Duthie Hill Road. Turn left onto the Issaquah-Beaver Lake Road and after 0.7 miles, turn right onto Beaver Lake Drive. Follow for 1.8 miles to trailhead at Beaver Lake Preserve.
Please help up protect the wetlands by abiding by the preserve's access and use rules:
Stay on trails and travel quietly
Keep all pets on a leash and remove pet waste
Motorized vehicles are not allowed on the trail
Do not light fires or fireworks
Do not create trails, build structures, post signs or litter
Leave all animals and plants undisturbed
Please keep in mind that pets are not allowed on Ann's trail
Hazel Wolf – A Legacy of Conservation
Our region's conservation community has long been invigorated by the tenacious nature and foresight of activist and environmentalist, Hazel Wolf.
Hazel Wolf once described herself as 'older than electricity' and while not strictly true, she was a feisty and electrifying advocate. She fought for workers and immigrant rights, women's suffrage and environmental protection. Although Hazel's environmental and conservation advocacy started later in her life, this self-described, lifelong "rabble rouser" became one of the most respected figures in the Pacific Northwest environmental community.
Wolf never seemed to tire in her 100 years. In 1964, Wolf took up her defining cause when she became actively involved with the Seattle Audubon Society. At age 67, she went on to serve as the secretary for the Seattle chapter of the Audubon Society for more than three decades and helped found nearly all the subsequent Audubon Society chapters in the Pacific Northwest. She was reported as saying one of her goals was to turn "a bunch of bird watchers into an effective environmental lobby."
Our region owes a great debt to Hazel Wolf's tenacity and advocacy.
Once developed, the land loses much of its natural ability to clean and store stormwater.
One of the biggest threats to urban lakes and streams is impervious surface. Our roads, driveways, sidewalks, roofs, and even the compacted soil under our lawns all shed water when it rains. Rather than infiltrating into the ground as it would in a natural landscape, much of this water runs off into the nearest stream, carrying with it the dirt, dust and harmful chemicals that have accumulated from our everyday activities. During a storm, great volumes of rainwater can rush from our roofs and pavement directly into streams, picking up contaminants along the way and forcing them to flow faster. These high-energy flows erode streambanks, scour away stream beds, and bury what is left under a layer of sediment, destroying sensitive aquatic creatures and their habitat. 
Wetlands help manage runoff from heavy rains by filtering harmful urban pollutants, allowing sediments to settle out, and slowly releasing water over time to protect stream banks and habitat downstream. Maintaining a buffer of upland forest around streams and wetlands adds another layer of protection, intercepting and absorbing rainfall to reduce runoff volumes, and capturing sediment and other contaminants before they can reach the water. Even better, "green stormwater infrastructure" is considerably less expensive to create and maintain than engineered stormwater solutions, with the added benefit of providing essential habitat for local wildlife. Although they cannot do it alone, forests and wetlands in our neighborhoods lessen the impacts of increased development and the pollution that results from our everyday activities.
What you'll find at Hazel Wolf Wetlands
Tap each image to learn more about the hidden inhabitants of the wetlands.
Why Wetlands Are So Important
Wetlands are vital to the health of our neighborhoods, serving a broad community of people and wildlife. The wetlands at Hazel Wolf Preserve influence the quantity and quality of water flowing into Beaver Lake all the way to Lake Sammamish, Lake Washington, and Puget Sound beyond.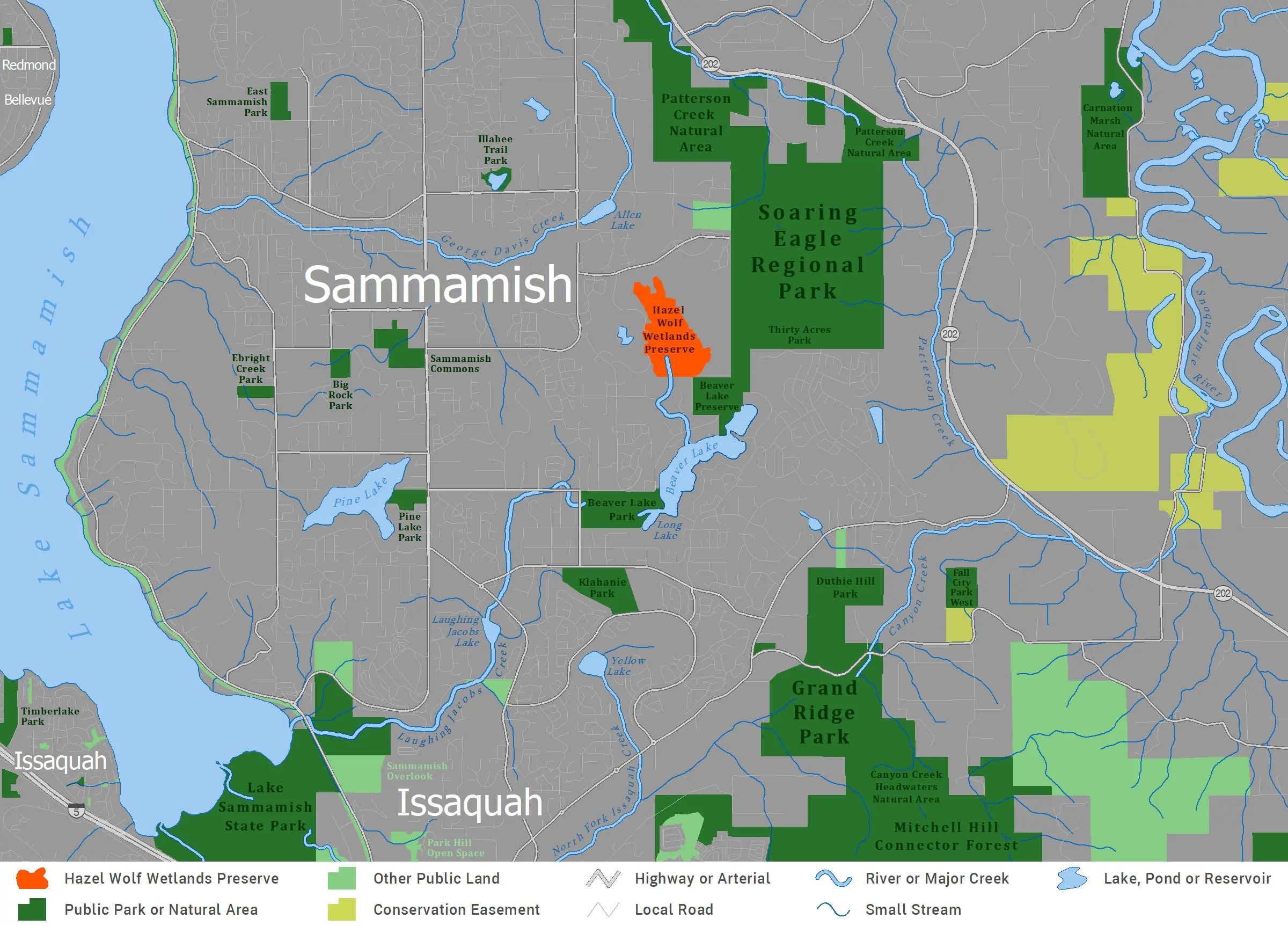 This Preserve Is Valuable
Hazel Wolf Wetlands Preserve is important locally for supporting some of the most diverse and least impacted headwater wetland complexes on the Sammamish Plateau. Its 116 acres harbor a complex of several different wetland types, all surrounded by upland forest. Headwater wetlands are especially valuable because they have a strong influence on important ecological processes throughout the entire watershed, and these in particular are recognized by the Department of Fish & Wildlife as a state conservation priority.
A System of Protected Habitats
Located within the headwaters of Laughing Jacobs Creek, one of the major streams draining the Sammamish Plateau into Lake Sammamish, Hazel Wolf Wetlands is not an isolated preserve. It is an important link in a sequence of protected natural areas along the creek, from Soaring Eagle Regional Park all the way to Lake Sammamish Park. These forests and wetlands provide essential habitat for the many species in the area as well protecting water quality and providing flood storage.
In addition to Hazel Wolf Wetlands Preserve, Forterra partnered with King County to purchase Soaring Eagle Regional Park in 1993, and with City of Sammamish to secure adjacent Beaver Lake Preserve in 2002, all of which connect to Hazel Wolf by trail. Further downstream near Lake Sammamish are two more public open space areas Forterra helped to protect in partnership with the city: Sammamish Overlook (1995) and Park Hill Open Space (1997). Collectively these and the other protected areas in the Laughing Jacobs Creek watershed help protect wildlife habitat and water quality.
Why Protect Wetlands and Forests?
Wetlands and forests are two of nature's great sponges. Trees, especially our massive native conifers, have a tremendous amount of surface area. Their needles, leaves and branches intercept a surprising amount of rainfall, some of which is absorbed into the plant itself. Most of the rest slowly drips or runs to the ground where it encounters understory trees, shrubs, groundcover plants and the thick layer of decaying leaves and branches that coat a forest floor. All this "duff" material further absorbs and slows the movement of runoff, helping much of it to infiltrate into the ground before it can reach a nearby stream, capturing sediment and other contaminants along the way.
Wetlands absorb and store runoff from heavy rains, filtering pollutants from lawns, roofs and roads and allowing sediments to settle out. Similar to our conifers, the high density of plant stems in a wetland slow the movement of floodwater, slowly releasing it over time, helping to prevent nearby neighborhoods from flooding and protecting the sensitive structure of aquatic habitats downstream from being washed away by fast-moving waters. Safeguarding forests and wetlands as the Sammamish Plateau continues to develop helps to solve some of our water management challenges.
Clean and abundant surface water is essential to the survival of most aquatic and terrestrial species. The forest and wetlands here foster a host of insect species that are important food sources for many mammal, bird, fish and amphibian species living in the area. Hazel Wolf and other protected areas upstream help clean surface runoff from the surrounding developed areas, protecting water quality in Beaver Lake and nurturing aquatic food sources that attract large, regular concentrations of waterfowl. And while you probably won't find them at Hazel Wolf, sockeye, coho, Chinook, and even the rare and endemic Lake Sammamish Kokanee salmon are all documented further downstream in Laughing Jacobs Creek. Given that Chinook are the primary food source for our Southern Residents orcas, preserving the forest and wetlands at Hazel Wolf alone won't save them, but it will certainly help.
We gather and live on the plains, plateaus, mountains, and coastal lands that have been home to Indigenous peoples since time immemorial. We respect their Indigenous, Tribal and Treaty Rights while honoring their stewardship and culture today.